By Chris Stonor
A Canberra architecture firm, JUDD Studio, has peered into the future and created digital renderings of an up and coming 152-unit apartment development called East Garden that includes a dedicated drone delivery area, reports the-riot-act.com.
The 3,196 sq metre apartment block located in the Gungahlin Town Centre will house apartments with futuristic-type features. This future building, situated on the corner of Kate Crace Street and Efkarpidis Street, was originally going to be constructed for the Defense Housing Australia's HQ after purchasing the land from the Eastlake Football Club. But, the situation has changed and developer, Glav Corporation, now wants the area to be a mixture of residential and commercial properties.
Currently, three different buildings have been proposed with interconnects between each of them. They will have a combination of 92 one-bedroom, 56 two-bedroom, and 11 three-bedroom apartments with 20 percent being adaptable.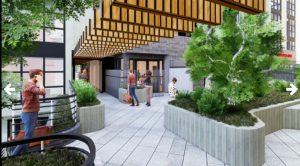 The plans include parcel lockers, community noticeboard areas, apiary and private rooftop community garden areas for each building, and shared access to a commercial/residential lifestyle podium as well as a dedicated drone delivery area. The aim is for residents and businesses to have goods delivered by drone safely without flying close to anyone or posing a general safety risk.
Over the past five years, drones are being used more and more to deliver products and general goods. In Queensland, for example, Google's Alphabet Wing has been delivering small goods, coffee, food, medicine and hardware during the last year with great success.
Elsewhere around the world, Supermarket giants Tesco and Walmart have initiated drone delivery trials in Ireland and America. The craft has the advantage of delivering smaller items in a very short timespan.
Therefore, having a dedicated drone region not only increases the safety of delivery, but normalises the procedure.
Visual presentation
https://www.youtube.com/watch?v=4xrCuPACmq8
(News Source: https://the-riotact.com)