By Chris Stonor
Latin American aerial logistics company, Speedbird Aero, has signed a multi-phase integration deal with Parazero, for a new fleet of autonomous delivery drones, reports a press release.
As part of the project, Speedbird Aero is to integrate ParaZero's Safe-Air Autonomous Parachute Recovery Systems into its entire fleet of delivery drones, which consists of three proprietary platforms, including a new VTOL and multi-rotor system.

Last year, Speedbird Aero received Brazil's first drone delivery approval from civil aviation authority, ANAC, after achieving BVLOS certification for its first delivery drone. ANAC had assessed the safety management and risk mitigation planning aspects of Speedbird Aero's operations, which included a ParaZero autonomous parachute system for each delivery drone in the company's fleet. "Speedbird Aero," says the release, "has now expanded its portfolio of delivery solutions to include platforms that are capable of broadening their distribution network, thus enhancing their logistics capabilities and further optimizing their supply chain operations."
It goes on, "The impetus for Speedbird Aero's massively successful results has been, among other elements, their strategic alignment with leading Latin American companies such as iFood, ABInbev, B2W and Hermes Pardini."
And adds, "Through these strategic alignments, Speedbird Aero is now offering, at scale, an on-demand delivery service that combines drone delivery with other forms of last-mile transportation, including electric motorcycles, bicycles, e-scooters, and e-bikes."
Samuel Salomão
Samuel Salomão, Co-Founder of Speedbird Aero, commented, "Through our alignment with ParaZero as a strategic partner, we have effectively enhanced the safety of our operations with their robust safety solutions, which supports our fleet of delivery drones and ensures our capability for safe, secure delivery operations in urban environments."
ParaZero's Director of Business Development and Regulation, Aaron Gabriel, added, "Aerial logistics is a rapidly emerging industry, and ParaZero is at the forefront of drone safety. Through supporting the safety of Speedbird Aero's delivery operations, the ParaZero team continues to see our vision of enabling expanded drone operations in urban environments come to life."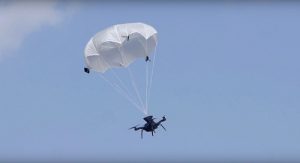 Footnote
Since last year's drone delivery approval, Speedbird Aero has now flown over 700 BVLOS flights and more than 1,000 urban environment hours, including parcel delivery over shopping malls and other advanced operations. The total delivery flights-to-date exceeds more than 4,000 deliveries and continues to grow in scale.
Visual presentation
 https://www.youtube.com/watch?v=3IVXdun9_Us
For more information