By Chris Stonor
Ehang are allegedly close to forging a collaboration with Spain's "Policia Nacional" after rumours of this potential partnership have spread across social media since the Spring.
In a recent interview on the Spanish TV station, InformativosTM, the reporter states that "It's only a matter of months" before the cooperation begins.
 https://twitter.com/JCrz_/status/1445433677001936896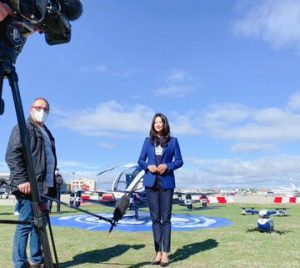 This is a natural development from deploying basic drones to monitor traffic, roads and general urban areas, for police flying in an EHang 216 passenger AAV above such an environment is the natural next step. This potential collaboration is helped by the excellent progress made by EHang and its on-going close relationship with EASA.
Perhaps, 2022 will be the time when those futuristic films will come true, two to three years before a majority of eVTOLs make an appearance?
Footnote
The Policia Nacional is the national civilian police force of Spain. The CNP is mainly responsible for policing urban areas, whilst rural policing is generally the responsibility of the Civil Guard, the Spanish gendarmerie. The CNP operates under the authority of Spain's Ministry of the Interior.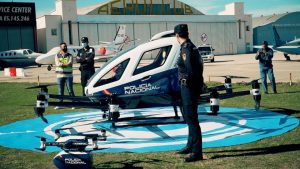 For more information
https://en.wikipedia.org/wiki/National_Police_Corps
https://www.ehang.com/ehangaav/
(Thanks to J.Cruz for the story)