By Chris Stonor
Back in October 2019, the American town of Christiansburg in Virginia, set a precedent by opening up their skies to Wing, a subsidiary of Alphabet Inc. that develops drone delivery technology. The aim was to trial the delivery of small products like food and merchandise flown to local residents' doorsteps. And now, one year on, this trial has been so successful, it was announced today that the service will carry on, perhaps, indefinitely, reports wdbj7.com.
Alexa Dennett, Wing's Marketing and Communications representative, says, "We are as pleased as we can be about how the first year of operating in Christiansburg has gone." Partly due to the pandemic and social distancing rules, what started as a small service, then burst in to exponential growth. "We just saw a massive acceleration," continues Dennett.
According to Wing, there was a 500 percent increase worldwide of drone deliveries between February and April alone. The craft can fly 6 miles in 6 minutes, so offers a rapid and easy service.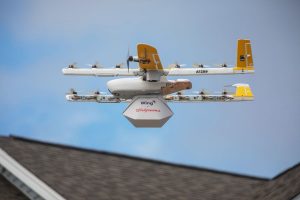 During lockdown, Christiansburg customers enthused that much needed services like toilet paper and food were flown quickly to their properties, while for some, especially more vulnerable older residents, there has been no need to visit grocery stores since March due to the success of the Wing delivery. Even library books and educational tools were dispatched to pupils during lockdown.
Kelly Passek, a Blacksburg Middle School Librarian, was a customer from the beginning and saw a need during the pandemic. Her request was just one of the ways Wing has been able to adapt during its trial. She points out, "I would love to see Wing expand its service area, so we really could reach every single student."
Now that the company will continue flying over the skies of Christiansburg, more and exciting expansions are to come. In recent weeks, the U.S. Department of Transportation and Federal Aviation Administration announced the BEYOND program, allowing drones to "take things to the next level."
Dennett adds, "We're really excited to continue to look to find new ways to help our customers and potentially even grow our customer base in Christiansburg," adding, "Wing are always looking for new businesses to partner with."
Visual presentation
https://www.youtube.com/watch?v=Oh97IDbrb6s
For more information
(News Source: https://www.wdbj7.com)