By Chris Stonor
Iceland (the country not the supermarket!) appears to be quietly and efficiently leading Europe in the drone delivery market, suggests icelandmonitor.mbl.is. Due to its low population and areas of remote landscape, the country is ideal for such transportation and heading the charge in this Icelandic market is Aha, founded in 2018 by Maron Kristófersson and Helgi Már Þórðarson.
The company's immediate success is such that this week it was awarded the SA Confederation of Icelandic Enterprise prize for the environmental initiative of the year.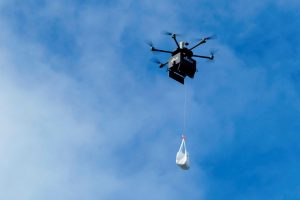 Aha's drones are entirely autonomous and, often helped by the remote environment, able to take the shortest and safest route to the customer. People who reside within a particular radius from the company HQ in the Reykjavik area, regularly use drone delivery where a popular aspect is ordering a meal from a local restaurant and having it delivered.
At an assigned delivery point, the purchase is lowered on a string and lands in the customer's yard. Should something go wrong, a parachute is activated, making the craft glide to the ground.
The drones fly at around 70 metres above the ground and then deliver from a height of 25 metres. This form of delivery not only reduces pollution, but saves time as well. That way, the meal ordered stays warm.
Since the drones are not yet rainproof certified, they're not being deployed when it rains. Not surprisingly, the largest percentage of orders are still delivered by car, although Aha only uses all-electric models.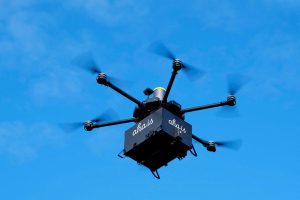 The company has a close relationship with the European Union Aviation Safety Agency (EASA), Boeing, and other organisations to improve the ways of how drone flight can operate in Europe.
Visual presentation
https://www.aha.is/himnasendingar
For more information
(News Source: https://icelandmonitor.mbl.is/news/)
(Top pic: Maron Kristófersson alongside a delivery drone)