By Chris Stonor
Teleport, a logistics venture of AirAsia Digital has partnered with the Malaysian Global Innovation and Creativity Centre (MaGIC), the Lead Secretariat of the National Technology and Innovation Sandbox (NTIS), to launch the Urban Drone Delivery Sandbox, reports sea.mashable.com.
AirAsia is Malaysia's No.1 Airline, so expanding into the drone market is an exciting step forward. There are also plans to develop an air taxi service in the not too distant future.
While in a preliminary testing phase, the project aims to develop a long-term urban automated drone delivery service. The eventual hope is to deliver packages to people's actual doorsteps. Presently, the trial also involves AirAsia's e-commerce business including its shopping platform.
AirAsia Drone Team
One recent trial included a Beyond Visual Line of Sight (BVLOS) demonstration which took place from Cyberjaya Park (Taman Mini Cyberjaya) to MaGIC HQ , a distance of 1.74km flying at an altitude of 80 metres above ground level.
Malaysia's Minister of Science, Technology, and Innovation Khairy Jamaluddin, said, "We are poised to be the frontrunner in the DroneTech industry, which is expected to generate USD127 billion by 2025. The global market size specific to drone package delivery was USD642 million in 2019, and is projected to reach USD7.3 billion by 2027."
Jamaluddin added, "The drone delivery of goods can be expanded and scaled up beyond e-commerce, such as delivery of essential or medical supplies to areas that are rural, remote, or affected by natural disasters."
The drones are to be trialled for six months at the National Technology and Innovation Sandbox (NTIS) test site in Cyberjaya. These tests involve two local drone operators: VStream Revolution and Meraque Services.
The service will be launched and then expanded following the success of the initial trial phase, where the aim is to assess the capability and experience of the drone operators. Public safety remains the highest priority.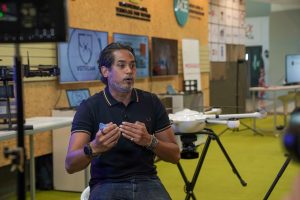 Khairy Jamaluddin
Working closely with the Civil Aviation Authority of Malaysia (CAAM), NTIS plans to ensure the safety and security of Unmanned Air Services (UAS) in urban areas meets the requirements and regulations as set by CAAM. NTIS aims to invite other drone start-ups to scale up by connecting them with regulators, telcos and other stakeholders.
Jamaluddin continued, "The Covid-19 pandemic has presented us the opportunity to accelerate structural changes to the economy, in terms of digitisation, digitalisation, automation and robotics. We must embrace that change to vault Malaysia towards becoming an innovation driven economy."
The Minister believes the strategic partnership between AirAsia and MaGIC will quicken things up and signal the beginning of the Malaysia's urban drone delivery revolution.
Tan Sri Tony Fernandes, CEO of AirAsia Group, commented, "The company has been at the forefront of innovation since being established 20 years ago. Today, we have disrupted the e-commerce industry with the AirAsia super app offering everything from food, groceries and duty-free products to our delivery logistics venture, teleport, and more."
Fernandes believes the partnership with MaGIC will improve efficiency and operational excellence as well as accelerate the pace of delivery in urban areas. He added, "Drone delivery enables us to keep up with the ever growing demand for e-commerce and remain agile when facing a shifting economic landscape."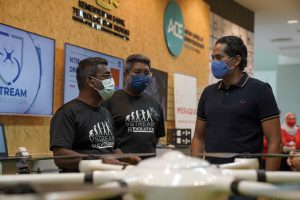 Fernandes believes this innovation will create new and high-tech job opportunities for Malaysians. "While some are losing work in aviation, we are offering them another opportunity." Adding, "As a disruptive leader, we are ready to take on new innovative challenges and embrace the wave of Industry Revolution 4.0 to our advantage."
Visual presentation
https://www.youtube.com/watch?v=vqAJKL4za60
For more information
(News Source: https://sea.mashable.com)