By Chris Stonor
Samsung Electronics has agreed a partnership deal with Manna to have some of its products delivered by drone, reports rte.ie. This means of transport is a first for Samsung globally. The company's products will include the S21 Ultra, the Galaxy Buds Pro, the Galaxy Tab S7 and the Galaxy Watch 3.
The delivery will facilitate an end-to-end contactless experience for Samsung customers from their initial online order through its Irish eStore, to the drone leaving the product at the Oranmore purchaser's property. Samsung and Manna are keen to expand this service nationwide in the future.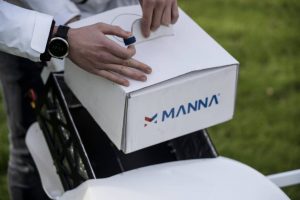 Box to Hold Products
Eamonn Grant, Head of Online for Samsung Ireland, said the company is always looking for ways to bring meaningful innovation to its customers. He says, "To be able to deliver our products to our customers within three minutes of leaving the dispatch centre is a brilliant example of innovation in motion."
He continues, "In the current environment, there is no better time to provide a contactless alternative to "click and collect" and we are really thrilled to be partnering Manna to achieve this."
Recent UAMN Mann Aero Articles:
https://www.urbanairmobilitynews.com/express-delivery/three-months-on-how-is-the-manna-drone-delivery-tesco-trial-in-oranmore-actually-going/
https://www.urbanairmobilitynews.com/express-delivery/ireland-just-eat-latest-to-join-manna-aeros-drone-delivery-trial-in-oranmore-county-galway/
Manna uses custom-developed aerospace grade drones to deliver products directly to customer's homes.  Their drones fly at an altitude of 50-80 metres and a speed of over 60kph.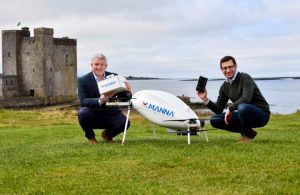 Alan Hicks, CTO of Manna, said today's deal with Samsung marks the first of its kind in the world. He comments, "We recognise that the potential for the application of drone delivery is enormous.  The company is very excited to be embarking on this next chapter with Samsung."
Bobby Healy, Founder and CEO of Manna, adds, "In the near future everything will come to you. This is the first of many retail brands beginning to take their first steps with drone delivery."
The trial with Tesco supermarket that began last Autumn as well as with local Oranmore businesses, has been a major success and Manna says the company are carrying out up to 100 drone deliveries a day.
Visual presentation
https://www.youtube.com/watch?v=5yxQ1czlrhg
For more information
(News Source: https://www.rte.ie)