By Chris Stonor
There is no stopping Manna's Founder and CEO, Bobby Healy at present. He is the man of the moment. The company's drone delivery trials in partnership with supermarket giant, Tesco, around the town of Oranmore in County Galway, Ireland, are proving highly successful, so why not visually show off this success for the world to see.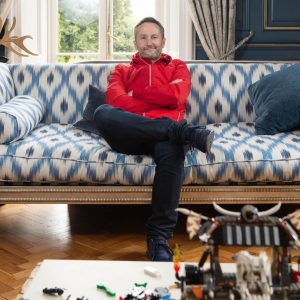 Bobby Healy
On Twitter, Healy has been posting film footage and statistical evidence of Manna's busy flight schedule, where Tesco customers can order a delivery by drone through a specialist website. There are up to 700 food and general products available. After ordering online, purchasers can then track the order in real time where it is delivered by air within 30 minutes to one hour.
The order is sorted by a Tesco employee, taken to a drone waiting on the roof of the supermarket, where delivery is managed by a Manna drone supervisor. Manna  promises a three-minute delivery time from when the products are loaded into the craft, and users are alerted when it is one minute away from their property.
Manna Operations Director, Denis Houston, commented, "It is incredible to work with an innovative partner like Tesco on this trial and to be able to provide the delivery service to the community of Oranmore. It's fantastic to see how innovation and new technologies like this helps all the community, both customers and local retailers."
Watch Film Footage
https://twitter.com/realBobbyHealy/status/1330226881296207882
View Statistical Evidence
https://twitter.com/realBobbyHealy/status/1330094577072680960