By Chris Stonor
Something very bizarre is happening at Michael Jordan's new golf course, The Grove XXIII. The world has learned that the basketball legend's ultra-exclusive course in Hobe Sound, Florida is deploying large drones to deliver carrier bags of food and boxes loaded with bottled beer to golfers in the midst of the course, reports outkick.com.
Videos showing Grove XXIII drones in action have surfaced on social media over the weekend. Goodbye cart girls, hello unmanned craft. An order is placed via mobile from the midst of the course by a player and within minutes a drone appears overhead, then lowers the snacks and drinks order, to be picked up by a waiting golfer.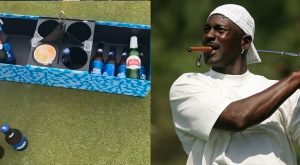 In one Instagram video, a drone lowers 10 beers and what looks to be a mixed drink close to a tee box. In another posted by retired tennis player, Caroline Wozniacki, a golfer is shown grabbing a bag of supplies from the overhead craft.
The Bobby Weed designed course opened this year and quickly became No. 9 on Golf Magazine's Best Golf Courses in Florida. Yet, it's exclusivity means the average Joe will never gain the "drone-experience" as the course is invite-only.
By early June, there were only 100 members, many of them from the Who's Who list of famous sports stars or celebrity friend's of Jordan. They include golfing superstars, Phil Mickelson and Rickie Fowler.
https://twitter.com/BrendanPorath/status/1335761784603627520
(News Source: https://www.outkick.com)