By Chris Stonor
A Glaswegian curry house, The Shish Mahal, has teamed up with a local drone operator to trial the delivery of takeaway orders, reports glasgowtimes.co.uk. 
Owner Asif Ali, hopes to see the service up and running soon. "We are very excited about it. It is the future." He continues, "It is still in the testing stages and safety is paramount, but we hope to see drone delivery very soon."
Drone operator John Crawford, who runs Eye in the Sky Glasgow, developed the idea during lockdown after seeing crowds of people queuing outside takeaways. He is a regular at the curry house and approached the owners with the idea, then arranged a test flight last December.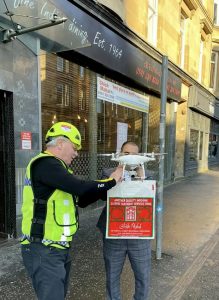 While the idea is still in the R&D stage (regulations, regulations, regulations!!) he believes drones could be the future of delivery services. Crawford says, "We decided to test it outside the restaurant attaching a carrier bag to the drone just with cardboard inside and fly it around the street, but the bag hanging underneath didn't really work. It's all about the weight." He continues, "So now I am looking at creating a polystyrene box which we will attach to the drone and do more trials with that."
Ali adds, "We are doing this with quality in mind. Drone deliveries will help get food to customers faster and still at top quality. Its eco-friendly, drone produce no emissions, and we are very conscious about the environment. It could end up being cheaper for the customer."
Footnote
Let's be kind, great idea shame about the regulations. As actress Amy Adams once said, "I think a lot of times we don't pay enough attention to people with a positive attitude because we assume they are naive or stupid or unschooled."
Let's keep on dreamin'.
(News Source: https://www.glasgowtimes.co.uk)