By Chris Stonor
Hot on the heels of Monday's breaking news that the UK's Royal Mail is to deploy drones to deliver letters and parcels to more remote areas of Britain, less than two days later the first trial took place when post was despatched by drone to a lighthouse on the Isle of Mull, Scotland.
Previous UAMN article:
https://www.urbanairmobilitynews.com/logistics/uk-royal-mail-drones-to-fly-postal-deliveries-to-remote-areas-of-britain-imminently/
Royal Mail has partnered with a consortium of established UK drone companies including DronePrep and Skyports alongside tech firm what3words.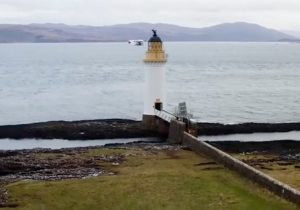 This is the first step of a groundbreaking series of trials planned for the early New Year that focuses on "engaging with the community to explore the viability of using drones to deliver to rural communities on the Isle of Mull." Drone company, Skyports, is already in place, presently deploying its craft to assist NHS Scotland with the response to Covid-19.
After letters and small parcels arrive at the local sorting office, the "local postie" will then employ drone delivery to reach the intended location rapidly and safely. Residents on the Isle of Mull are being invited to partner in these trials by using the DronePrep platform to assess the viability of their property for delivery.
Royal Mail is asking willing recipients to provide what3words with their address, while choosing a 3 x 3 metre sq. area landing spot. The drone will use a Royal Mail van as its take-off point.
Chris Sheldrick, co-founder of what3words, explains, "By labelling every 3m square in the UK with three words – a what3words address – recipients are easily able to communicate their desired drone delivery location. Our technology perfectly complements traditional addresses, but by adding a layer of accuracy when needed."
Nick Landon, CEO at Royal Mail, says, "Delivering the first live parcel in the UK by an unmanned drone was a landmark day for us. We've seen a huge increase in parcel volumes this year and this is just one of the ways we are looking at to support our frontline delivery staff."
Tom Nunn, local postie for Isle of Mull, adds, "This is a fantastic trial! Some of the properties on the island include a thirty-minute walk to the front door so the use of drones will be a huge help."
And Gareth Whatmore, CEO of DronePrep & Consortia leader, concludes, "In the last couple of years, drone technology has matured and these trials offer a huge opportunity for us all to learn more about how drones can complement and supplement existing Royal Mail delivery services."
Visual presentation (A must watch)
https://www.youtube.com/watch?v=2OqRFI4B5a8
For more information
https://what3words.com/daring.lion.race
(News Source: https://postandparcel.info)