By Chris Stonor
Giant supermarket chain, Walmart, announced this week a "GoLocal Delivery-As-A-Service" for other retailers, reports bizjournals.com. What makes this particularly exciting is that it includes delivery by drone.
Walmart says its GoLocal will be able to handle everything from power tools to kiddie pools. The white-label delivery service (this means items will not be transported by Walmart-branded carriers) will give precedence to the client's branding while serving a variety of use cases: scheduled, unscheduled, and express delivery windows.
Whenever a customer places an order with a business using the GoLocal delivery service, Walmart is to be notified of the same. Depending on the agreement with that retailer, Walmart can then decide on the best means of transport dispatch from either a standard driver, an autonomous vehicle or a drone.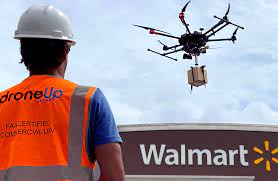 For the latter, Walmart aims to leverage the platform provided by its partner company DroneUp that has more than 10,000 FAA certified pilots in its network. Walmart has already trialled deliveries of at-home Covid-19 self-collection kits with DroneUp and is looking to begin drone delivery services for other goods from its store in Bentonville, Arkansas.
John Furner, president and CEO, Walmart U.S., explained, "In an era where customers have come to expect speed and reliability, it's more important than ever for businesses to work with a service provider that understands a merchant's needs."
Tom Ward, Senior Vice President, of Walmart's last mile, added, "The service is customisable for merchants of all sizes and categories so they can focus on doing what they do best, leaving delivery speed and efficiency to us."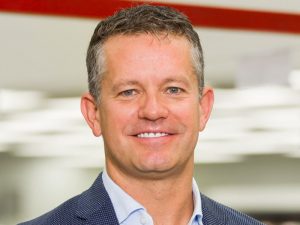 John Furner
Ward told CNBC News that GoLocal partners could include autonomous vehicle companies Cruise, Waymo and Nuro as well as drone delivery services DroneUP, ZipLine and FlyTrex. Walmart is an investment partner in both Cruise and DroneUP.
Today, Walmart offers express delivery services for more than 160,000 items, including groceries, everyday essentials, toys, and electronics. Walmart has approximately 10,500 stores and clubs worldwide and had fiscal year 2021 revenue of USD559 billion.
Visual presentation
https://www.youtube.com/watch?v=A4rPEgO3RiI&feature=emb_imp_woyt
For more information
(News Source: https://www.bizjournals.com/bizwomen)