By Chris Stonor
Below is a link to a five-minute interview on the Paul Barron Report with Yariv Bash, CEO of drone delivery company, Flytrex. The Israel-based company was formed in 2013 and today offers a world drone delivery service. The craft are fully autonomous, regulatory approved and insured.
The drones are controlled over the cloud using a smart and easy control dashboard. Using a wire release mechanism, orders are gently lowered from 80 ft. Flying at 32 mph at an altitude of 230 ft, the unmanned craft can reach a backyard in a fraction of conventional food delivery time. The Flytrex craft carry up to 6.6 lbs (6-8 hamburgers) for upto a distance of 3.5 miles and back.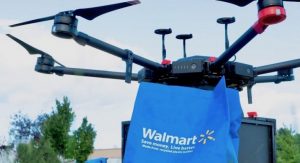 Last September Flytrex began trials with the giant U.S supermarket chain, Walmart, in North Carolina, carrying small grocery items.
Watch Video
https://www.youtube.com/watch?v=YZNfu3x0XDY&t=3s
For more information