By Chris Stonor
 Manna Aero continues to attract publicity surrounding its drone delivery operations in Oranmore, County Galway, with this lengthy 4'+ feature on Ireland's major TV station RTE Nationwide.
Naomi Cullen, Manna Operations and Communications Manager, explains to camera how the drone delivery operates within a 2km radius from the Oranmore Tesco roof. The company carries out up to 100 deliveries a day and apart from Tesco has 14 local independent vendors involved selling everything from coffee and hardware items to general groceries, healthcare products and takeaways. There is also a conversation with a shop owner and a hotel proprietor.
Cullen says, "The local community has been very supportive of the service. First, it was a novelty but now is viewed as an everyday regular and normal occurrence."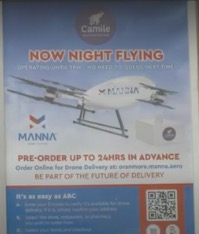 She then tells the story of a woman living in Dublin whose mother resides in Oranmore. They were unable to see each other due to the lockdown and as the mother enjoys reading, each week the daughter sends by drone a new book and magazine to read. "This is their way of keeping in touch," Cullen points out. She also enthuses that within 18 months, Manna aims to be carrying out Nationwide operations around Ireland.
On the back of this video, Bobby Healy, Founder and CEO of Manna Aero tweeted this morning, "Groceries and food, could become the most promising use case for drone delivery. 34 to 49 percent of respondents said they would choose to have convenience products delivered within one to two hours. These were the top category in every country."
 Watch Video: Click on The Link Below
https://twitter.com/MannaAero/status/1400370308612333571
(Top Pic: Naomi Cullen)