By Chris Stonor
Orlando start-up, Archer First Response Systems, has partnered with Texas-based software company, RapidDeploy, to assist with Archer's drones to quickly respond to 911 calls and deliver life-saving medical supplies, reports bizjournals.com.
RapidDeploy's CEO and Founder, Gordon Folkes, explained, "This partnership makes it possible for Archer to cut response times for some medical emergencies without any extra burden for victims or bystanders. It allows us to not have to change the paradigm of 'Dial 911 in an emergency.'"
This co-operation is a big step forward for Archer who has been going for 7 years, since RapidDeploy's software is used by more than 500 public safety agencies and 911 call centres across the U.S, with 150 more new users coming on line. The software can work out a 911 caller's location and assist deployment of the nearest drone to the incident in less than 10 seconds.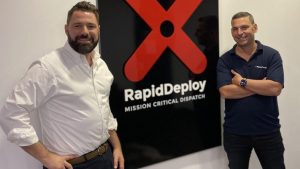 Steven Raucher and Brett Meyerowitz
Archer's emergency response system is a fit for counties, emergency medical services agencies or 911 call centres that want to cut their response times for cardiac arrests, opioid overdoses and mass hemorrhaging incidents.
Each craft can cover a 35-square-mile area, allowing it to reach a caller in less than five minutes. The drones will fly supplies like an automated defibrillator, used to re-establish heart rhythm in heart attack victims, or Narcan, used to reverse opioid overdoses.
Archer aims soon to trial its first response system in Manatee County. The Florida county's commissioners voted in September to approve an equipment lease and operating services agreement with the company. Also, the firm is open to working with hospitals interested in sponsoring this system in their communities.
If Archer's tests are successful the company is likely to grow its staff of three full-time employees to up to seven.
Visual presentation
https://www.youtube.com/watch?v=2ZNHuYcwsoo (From 6.20')
https://www.youtube.com/watch?v=hzgIoLJvMgc
https://www.youtube.com/watch?v=xBwc4JN7feA
For more information
(News Source: https://www.bizjournals.com)