By Chris Stonor
A  UKP64,000 drone has been destroyed because its police officer pushed the wrong buttons on the control panel, according to a report released by the Air Accident Investigation Branch (AAIB).
The policeman had deployed the craft to search for a missing person at Maidenbower, near Crawley in West Sussex. It was in the early hours of June 17th, 2020 when the officer launched a top-of-the-market drone to use its thermal imaging camera during a night-time search. The Aeryon SkyRanger R60 suddenly began flashing a warning message on the tablet computer which the policeman did not understand.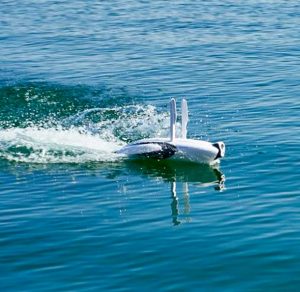 According to the AAIB:
"The pilot had not recognised the significance of the icon that he had inadvertently selected on the flight selector and his attempt to clear the message from the screen had the unintended consequence of activating the emergency cut-out function. This had shut down the motors and caused the UA to fall into the pond below. CAA requirements currently allow a person with no previous experience to gain a commercial UAS pilot's qualification in a relatively short period of time, often in less than a week. The high level of automation available also makes many UAS relatively easy to operate. These points have the benefit of making this important area of aviation more widely available.
They however also present the potential for people operating UAS to do so without the benefit of the experience gained over the longer and more extensive training required for more traditional routes into manned aviation.
Recent AAIB investigations reveal a lack of understanding by some UAS pilots of fundamental operational factors such as weather limitations and the handling of aircraft warnings and failures. The potential for such UAs as that involved in this accident to cause serious or fatal injuries when falling from even relatively low heights highlights the need for UAS pilots to be capable of understanding all aspects of their operation.
This in itself requires careful management where an operator has a number of different pilots and systems under their control, with a need to carry out effective training and assessments, as well as keeping pilots properly current."
"The police forces involved had been increasingly investing in the training and assessment of those officers using UAS. They were already in the process of introducing a new system of pilot assessment which will require pilots to undergo an assessment every six months, incorporating an annual day's training."