By Chris Stonor
All around the world drones are being increasingly deployed by law enforcement to improve the standard of policing and The Netherlands is no different, reports nltimes.nl.
Dutch police first deployed a drone back in 2006 and now in 2020 alone, the country's force has used the craft over 800 times to primarily investigate traffic accidents and maintain public order – 200 more times than last year. The force currently has 60 drones with the aim of increasing this number to 130 within two years.
Peije de Meij, a police spokesperson, says, "Drones are a new tool that increasingly help the force to improve its work. They offer many new possibilities as we can mount everything on them from cameras, thermal imaging and speakers to lights."
The police's drone team travels all over The Netherlands to assist where required. During recent demonstrations against the pandemic lockdown, Peije de Meij points out the craft helped to show how crowded the gatherings were and whether people were social distancing.
Leonie Knapen, a police drone operator, explains,  "You can see from the air much better than from the ground whether people are too close together, or whether they're fine."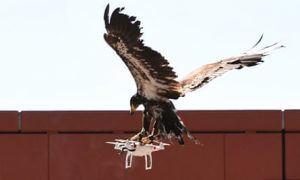 Dutch police are also looking into new ways on how drones can be used. For example, this year the craft were deployed to find missing children in a nature reserve, to seek out hidden drug laboratories, as well as for explosives reconnaissance. Today, each drone "with all the latest trimmings" cost the force around EU50,000 each. Peije de Meij adds, "Present regulations do not allow us to fly drones over residential areas unless we gain a special permit."
Unfortunately, the Netherlands Force became the butt of jokes when it announced to the world in 2016 that a "convocation of eagles" had been trained to "take down rogue drones". This trial only lasted a year as handlers stated the birds of prey consistently misbehaved and had lost interest in capturing the craft.
Watch Film: 'Where Eagles Dare'
https://www.youtube.com/watch?v=00szWWrTNnE
(News Source: https://nltimes.nl)