By Chris Stonor
(Translated from Indonesian into English)
The Indonesian National Police has chosen the Ehang 216 AAV to assist them with natural disasters long-term after successful trials surrounding the Mount Semeru Eruption in Lumajang Provence, East Java in December. This is a continuation of the successful flight demonstrations in Bali during last November.
Aviation Commissioner, Rudy Salim, commented, "We are increasing the use of unmanned aircraft to monitor disaster sites as well as increase delivery routes." The EHang 216 was used particularly well for surveillance during and after the Mount Semeru eruptions.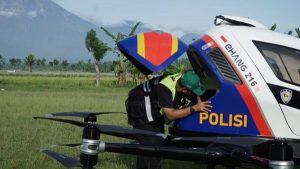 The AAV is now considered an ideal means of emergency transport due to its fast response time, the ability to fly over difficult terrain and requires little space to land.
It is expected to make post-disaster management more effective and efficient. Salim added, "Of course, the operational success of the EHang 216 at Semeru cannot be separated from the support of the National Police Chief, IMI, and also J99 Corp." Meanwhile, the AAV will also be tasked to conduct mapping inspections as well as "eyes in the sky" during an environmental emergency.
Visual presentation
https://www.youtube.com/watch?v=XLF_lMY2gu8
(News Source: https://otomotif.sindonews.com/)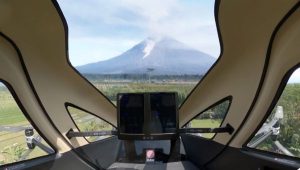 Footnote
On December 4th, 2021, Mount Semeru began erupting. Since, at least 57 people have died, 104 more injured, while 23 remain unaccounted for. Thousands of people have been displaced after more than 5,205 homes and several public buildings were damaged. Witnesses described nearby villages covered in debris and thick smoke blotting out the sun and leaving them in pitch darkness (see video).
Semeru is one of more than 100 active volcanoes in Indonesia. At 3,676 metres in elevation, it is the highest volcano on the island and is part of a chain of volcanic mountains stretching from northern Sumatra to the Lesser Sunda Islands.
A minor eruption occurred in January 2021 with no casualties reported. The December one was the latest in a series of more powerful eruptions from the volcano since 2014.