By Chris Stonor
Like other areas of the world, China is facing another outbreak of Covid-19, this time in the province of Guangdong, reports a company press release.
EHang has stepped up as a first-responder and dispatched a flight operations team alongside multiple AAVs for relief and control efforts in Guangzhou City.
The release says, "Starting from June 4th, EHang has successively deployed the passenger-grade AAV EHang 216, EHang 216L (logistics model), EHang Falcon B series and Falcon B (logistics) for epidemic prevention and control efforts."
And goes on, "With the technical advantages of autonomous flight as well as capabilities for rapid response and cluster management, the EHang 216 and EHang 216L AAVs built emergency air transportation routes across the Pearl River in Guangzhou, successfully completing multiple "contactless" relief and support tasks in the quarantine and containment zones."
Adding, "Tasks covered aerial logistics, emergency transportation, aerial inspections and broadcasting, transporting necessary daily household supplies to residents in the quarantine zones, and implementing urban air mobility (UAM) systems in emergency transportation scenarios."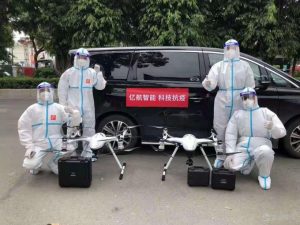 Eleven days on, EHang's designated flight operations team will maintain its station near the quarantine and containment zones to continue with household and emergency supply air transport to reduce risks of front-line staff contacting the virus, and further support the coronavirus control and prevention mission in Guangdong Province with improved efficiency.
Visual presentation
https://www.youtube.com/watch?v=mXLQVPzcPwc
For more information