By Chris Stonor
EHang announced this week that its fire-fighting, EH216F AAV, has successfully passed a technical examination by China's National Fire-Fighting Equipment Quality Supervision Testing Centre (NFFE), reports a company press release.
The NFFE is a national firefighting equipment quality examination agency under the Ministry of Emergency Management (MEM) of China. Its nationwide responsibilities include standards development, centralised management and technical guidance for firefighting equipment products, including specialist unmanned aerial vehicles (UAVs).
EH216F's successful examination means it now conforms to the firefighting UAV standards and requirements by the NFFE which allows EHang to promote, market and adopt the craft for firefighting operations both in the commercial markets of China and abroad.
The release explains, "The NFFE 10-month technical examination included 52 different types of tests such as flight control functions, hovering and return accuracy, high/low altitude flights, electromagnetic compatibility, wind resistance, high/low temperature adaptability, vibration/shock resistance, radiant heat resistance and smoke performance."The 216F was officially launched a year ago.
The release continues, "With key advantages in autopilot, quick response and cluster management, EH216F is designed to address pain points in urban high-rise firefighting and become a valuable complement to the existing system as well as for emergency rescues."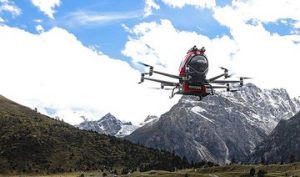 Visual presentation
https://www.youtube.com/watch?v=1dLa6_QlNgY&feature=emb_imp_woyt
For more information