By Chris Stonor
Mountain search and rescue agencies in Switzerland are turning more and more to drones in assisting them find and save people's lives from heavy snow or dangerous terrains, reports swissinfo.che.
The Swiss National Rescue Agency, Rega, has been trialing an autonomous helicopter-type drone around the Alps. The service, a non-profit foundation supported by 3.5 million patrons, is widely used around the country. Last year, it came to the aid of some 31 people per day who received medical assistance by air in Switzerland or in other countries.
Rega's new two-metre-long helicopter drone is equipped with cameras, sensors to detect mobile phones, an anti-collision system and an algorithm developed by the federal technology institute ETH Zurich that allows it to scan wide areas and autonomously recognise people on the ground.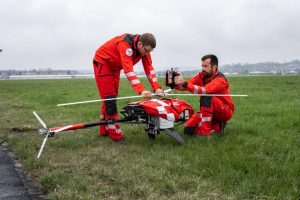 Trained Rega operators determine the precise area the drone should search and start the device manually. Once the airborne craft detects a human on the ground, it sends a signal to the operators several kilometres away who decide whether to send a rescue team or not. Rega's drone does not replace any of its existing services, but instead, expands conventional rescue operations. For example, it is deployed in cases where the conventional helicopter is grounded due to poor visibility.
Sascha Hardegger, the Rega Drone Project Manager, said,  "This does not replace other rescue services. In bad weather, for example, the drone supports helicopters or search dogs."
Over the past 15 years Switzerland has become a leader in drone R&D. A so-called "Drone Valley" has emerged, mainly between Lausanne and Zurich, with over 80 firms providing more than 2,500 jobs.
In 2010 the National Centre of Competence in Research Robotics (NCCR) was formed, funded by the Swiss National Science Foundation, to develop "new, human-oriented robotic technology for improving our quality of life".
Visual presentation
https://www.youtube.com/watch?v=K1RGA_IeKXU
For more information
https://nccr-robotics.ch/nccr-robotics/what-is-nccr-robotics/
(News Source: https://www.swissinfo.ch/eng)