By Chris Stonor
According to a past filing with the FAA, Google's drone delivery service, Alphabet, requested permission to trial drones for researching the capabilities of monitoring and controlling fires.
 The company's climate and energy research group said it planned to use the drone at a private property in Firebaugh, California, according to a filing with the FAA. But these aims have since fizzled out.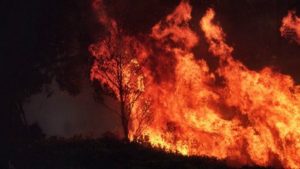 A Google spokesperson wrote in an email, "The FAA filing from Google Research's Climate and Energy group is a petition submitted almost a year ago for a project we were considering exploring at the time." Adding, "We have no immediate plans to re-engage on this project."
The Bloomberg articles states, "The FAA has previously granted waivers to other organizations that sought permission for similar operations. The drone Google planned to use, weighing between 55 and 98.8 pounds (44.8 kg), is made by Homeland Surveillance & Electronics (HSE) and mass-produced for agricultural applications. It holds 20 litres of liquid, or about 5 gallons. Loaded up, HSE says  the drone can fly for 8 to 15 minutes."
Alphabet's drone, Wing, is primarily focused on autonomous drone delivery for food products and general goods. The company has enjoyed growing success in areas of Australia and America.
Visual presentation
https://www.youtube.com/watch?v=KoprPZUWpIU
For more information
(News Source: https://www.bloomberg.com)