By Chris Stonor
A new report published by Allied Market Research, entitled, "Firefighting Drone Market by Product Type – Global Opportunity Analysis and Industry Forecast, 2020-2027", offers interested parties an all-inclusive analysis of this specialist yet growing arena.
It covers all areas from growing trends to future forecasts and highlights the competitive landscape, potential revenue generated by 2027, factors expected to drive the market, the business strategies required and the best world regions for growth.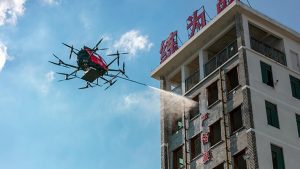 The report presents "in-depth insights into each of the leading firefighting drone end user verticals" and "provides revenue forecast with sales, and sales growth rate of the global firefighting drone market."
The market is evaluated based on its regional penetration and covers areas such as North America (United States, Canada and Mexico), Europe (Germany, France, UK, Russia and Italy), Asia-Pacific (China, Japan, Korea, India and Southeast Asia), South America (Brazil, Argentina, Colombia), Middle East and Africa (Saudi Arabia, UAE, Egypt, Nigeria and South Africa)
 The present top ten leading companies in the global firefighting drone market are analysed along with their business overview, operations, financial analysis, SWOT profile and products and services.
The key players analysed include Lockheed Martin Corporation, Elistair, Harris Corporation, BSS Holland B.V, Aerones, Yuneec International Company Limited, Dronefly, DSLRPros, Draganfly Innovations, and AeroVironment.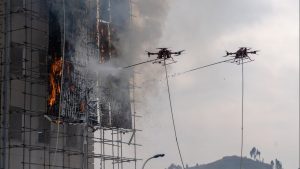 Visual presentation 
https://www.youtube.com/watch?v=WFqThcMIN7A
https://www.youtube.com/watch?v=1dLa6_QlNgY
For more information
https://www.alliedmarketresearch.com/request-for-customization/6645?reqfor=covid
https://www.alliedmarketresearch.com/request-sample/6645
https://www.alliedmarketresearch.com/purchase-enquiry/6645
https://www.alliedmarketresearch.com/request-for-customization/6645