By Chris Stonor
Top Scottish police chiefs who agreed to a UKP57k purchase of three unmanned craft for Glasgow, Aberdeen and Inverness forces last year, despite fears they could malfunction and fall, "have been blasted for their decision", reports the scottishsun.co.uk.
The drones chosen, from the Matrice 200 series, had been found previously to "have crashed while operating in rain" by a UK Air Accidents Investigation Branch report. The findings discovered 16 similar craft to suffer from that fate.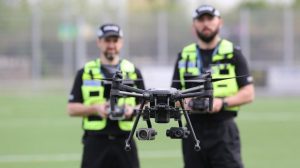 Slamming the purchases by Police Scotland, Harry Fone of the TaxPayers' Alliance said, "For too long Scots have suffered repeated failures when it comes to public procurement. Urgent overhaul is needed to ensure wasteful spending like this doesn't happen again." Adding, "Taxpayers will be livid their hard-earned cash has been squandered."
In a letter to Holyrood's justice committee, Deputy Chief Constable Malcolm Graham said the drones would not be used in wet conditions to avoid "an in-flight failure". And Chief Superintendent Louise Skelton added, "To ensure maximum safety of the public, Police Scotland has taken the decision not to operate the M210 in rain." Bosses said an issue waterproofing the craft had been fixed by the supplier.
The force first began deploying drones in 2019 to assist with missing person searches and crime scene photography.
(News Source: https://www.thescottishsun.co.uk)