By Chris Stonor
Presently, Chinese police are using drones to combat the recent freezing weather around the city of Shanghai, reports shine.cn. The city, located in the east-central region of the country, is one of the largest seaports and a major industrial and commercial centre.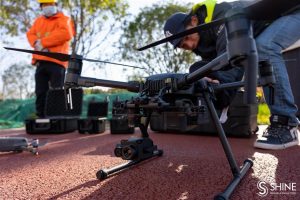 In the Pudong New Area, for example, local traffic police use a drone to check elevated roads and expressways for ice each day before the morning rush hour and if discovered, maintenance workers equipped with straw mats and de-icing agents are then called in to remove it. The drone deployed is equipped with a thermal imaging camera that is more efficient in spotting ice than officers in patrol cars.
Another cold front will sweep over the city this coming week, the Shanghai Meteorological Bureau has forecast. On Thursday and Friday, temperatures may plunge to below freezing point with sleet and snow also possible.
(News Source: https://www.shine.cn)