By Chris Stonor
UK Lancashire's police force were given an additional UKP30,000 recently, where much of this funding was spent on customising a unique new police vehicle to house the force's drone unit, reports blogpreston.co.uk. This special vehicle can rapidly respond to incidents that require air support, where drones can be quicker, more accessible, effective and a cost efficient alternative to a helicopter.
Lancashire's Police and Crime Commissioner, Clive Grunshaw, praised his Constabulary's dedicated drone team. "I know how vital this team is and how valued they are across the force. They strengthen our ability to bring criminals to justice and that can only be a good thing."
He continued, "Policing is constantly evolving and the increasing use of drones during our police work highlights how here in Lancashire we are committed to investing in technologies that help tackle crime and keep people safe."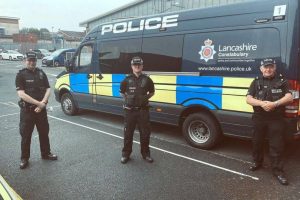 The drone team also support officers at large gatherings like sporting events, finding missing or wanted people as well as aerial photography and general evidence gathering after road traffic collisions, major crime incidents and Industrial Accident investigations. In the past 12 months, the  team have deployed their drones at 1,400 incidents across Lancashire.
The Lancashire constabulary drone unit primarily use an Aeryon SkyRanger which weighs 2.6 kg including the battery and camera. They can operate in all weather conditions and in winds of up to 65 kilometres per hour. Grunshaw added, "Investment into new technologies that keep the force one step ahead of criminals is absolutely vital."
Presently, of the 48 police forces around the UK, perhaps, only two, the City of London and West Mercia, do not either keep or operate drones. In the first 6 months of 2020, there were more than 5,500 overt uses of the craft by the police around the UK. In addition, a survey carried out by dronewars.net earlier this year, suggested a number of forces are using drones for covert surveillance operations too. Currently, the UK police hold or use close to 300 drones.
Visual presentation
https://m.facebook.com/lancspolice/videos/824185925097717/
For more information
https://www.lancashire.police.uk/about-us/our-organisation/unmanned-aerial-vehicles-drones-uav/
https://dronewars.net/2020/11/02/benchmarking-police-use-of-drones-in-the-uk/
(News Source: https://www.blogpreston.co.uk)