By Chris Stonor
The UK is a world leader in the use of unmanned air vehicles by emergency services and over half of the 45 territorial police forces now deploy drones and this number is quickly increasing.
Police Sergeant James Rees, Team Manager of the drone unit alliance set up in July 2017 by the polices forces of Dorset, Devon and Cornwall, says: "We now have 59 trained pilots and more than 30 drones in our fleet." The Alliance flies several DJI Matrice 210s equipped with thermal and optical zoom cameras alongside over 15 Mavic Pros. According to the manufacturer over 140 people have been rescued worldwide through the help of their unmanned products.
Among the Alliance's 355 drone deployments last year, search and rescue is a particularly beneficial use and recently the Force saved a man's life in Exmouth, Devon. "An individual in distress had left a note and his family contacted us," explains Rees. "After discovering his vehicle a drone was despatched to the area. Just eight minutes later, he was found on the cliff edge through the use of thermal imagery, still alive and conscious, and we immediately sent officers to his location thanks to the live video feed."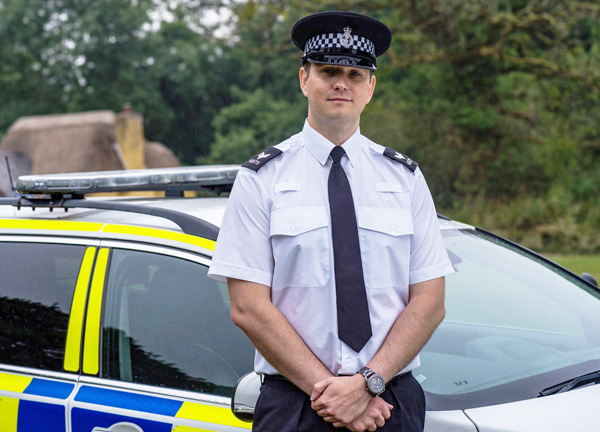 Sergeant James Rees
Unmanned vehicles are far more cost-effective than the employment of police helicopters which charge the taxpayer between UKP800 and UKP1,000 an hour. Compare this to the UKP100 or so for a drone. It has been estimated the Alliance could save over UKP360,000 a year with the Dorset Force alone saving UKP170,000.
But these savings are not only from flying. Rees explains, "We are increasingly using drone video footage in court cases. While it is difficult to track the value of using them in criminal cases, video increases the chance of gaining a conviction, by helping investigators track the path of a suspect between point A and B, and to then place this in-front of a Jury and Judge to offer them a 3D perspective. This ends the need for a Jury to be taken to a crime scene, thus saving time and money as they already have all the necessary information on film."
Another example is the building of evidence for road traffic collisions which can be a time-consuming and lengthy process. Rees points out, "Using drones speed this process up and saves the taxpayer money." He continues, "Then there are times when people evade the police by running in to open countryside or hiding in back gardens. Unmanned vehicles can track them down easily. Also, they are able to quickly search large areas compared to the physical and arduous approach of people on foot."
Rees is especially enthusiastic about educating the public on the use of flying drones. "Dorset Police hold regular educational courses on how to safely and responsibly fly unmanned vehicles. Well over 400 people have so far attended our events which cost just UKP20." Rees says, "We are looking to roll out our training course Nationally. Essex Police hold their first one in July where there'll be emphasis on offering it to people who have offended when flying a drone."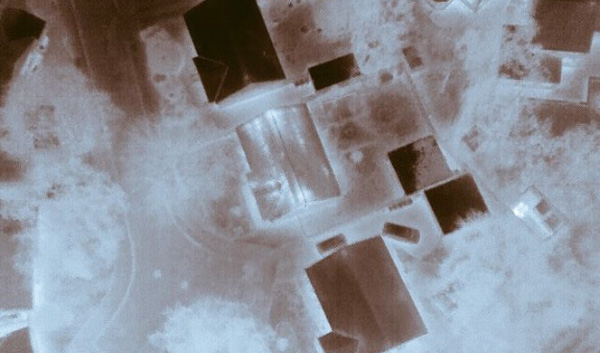 Uncovering a cannabis farm
Mark Talliss, representing the Wiltshire Police says, "Drones are a massive game-changer. You can't write this stuff." Whether it is saving the life of a missing and distressed teenage girl, locating a rape victim, catching illegal off-road bikers, uncovering UKP200,000 worth of stolen electrical cable alongside a stash of concealed weapons at a traveller site or discovering a major cannabis farm, where the grower was successfully prosecuted and jailed for three years, this 'eye in the sky' technology has turned some drone pilots in to local heroes.
Unmanned vehicles are also employed to help the Fire Service.
Talliss explains, "Recently, a drone was used for a fire at a Wiltshire recycling plant. We were able to overview the scale and size and identify where the hot-spot was, so fire crews knew which area to target." Police deploy unmanned vehicles for crowd control and locating potential danger zones. A recent example occurred in Lincoln, where one was employed to monitor the throng attending the City's Christmas Market.
Outdoor music gatherings are also observed. The Cornwall police use drones to supervise the annual four-day 'Boardmasters Festival' in August, where over 50,000 people attend. The unmanned vehicles help the organisers to monitor the crowd and traffic as the site lies next to cliffs.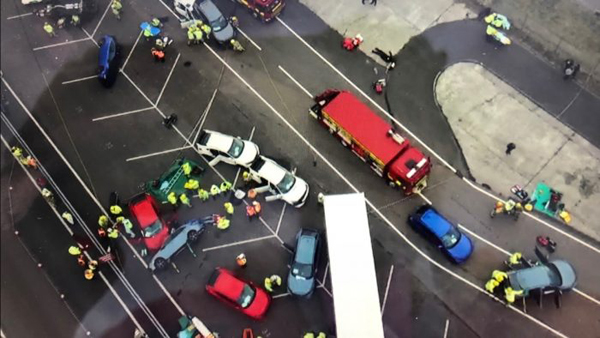 Helping to gather evidence from a traffic accident site
But what is stifling the development of further drone usage for the police forces are their costs alongside the present regulations. Most drones flown by the police can only fly for up to 20 minutes due to a short battery power and they're not allowed to rise higher than 120m or move no-more than 500m away (within sight) from the operator. Also, due to their high cost, the drones are not all-weather and therefore can only fly in dry conditions.
According to Rees: "As the technology improves and costs come down, all-weather drones will become more affordable. These are able to fly in light rain and higher winds. Meanwhile, the 'National Draft Drone Bill' concerning police powers is presently on hold, but I am confident it will be passed later this year which should give us greater powers concerning offences and registration rules. I accept that safety is paramount given we share the sky with other aviation, but my hope is that future regulations may allow the police drones to be flown further away from the operator allowing their many beneficial uses to develop and expand."
(Top image: Drone Over Cornwall Music Festival)