By Chris Stonor
Urban Aeronautics (UA) announced last week that the company will supply Hatzolah Air with four of its emergency medical service (EMS) hydrogen-powered eVTOL aircraft, reports inceptivemind.com. Called CityHawk, the craft allows first responders to rapidly respond to emergency situations in congested town or city centres.
Previous UAMN article on Urban Aeronautics:
https://www.urbanairmobilitynews.com/air-taxis/urban-aeronautics-partners-with-ascent-to-bring-cityhawk-to-market/
Back in August 2020, Urban Aeronautics, an Israeli aerospace company, signed a memorandum of understanding (MOU) with US-based Hatzolah Air (HA), to provide its planned CityHawk. The charitable medical transport organisation has now ordered four of them. HA will also become the official sales and distribution representative of UA for other EMS and rescue organisations worldwide.
Eli Rowe, President of Hatzolah Air, said, "Our mission is always about patient care and adding the VTOL CityHawk has the potential to save many thousands of lives every year." And continued, "We are also excited to become not just the worldwide distributor of Urban Aeronautics Air Ambulance CityHawk, but its first customer as well."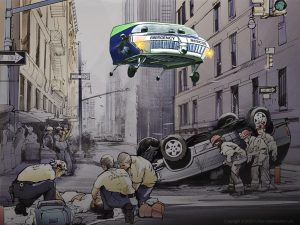 The craft has a lightweight twin-engine VTOL (vertical take-off and landing) which can be deployed for both urban transportation and emergency response. The CityHawk's main passenger cabin can be adapted to accommodate six passengers, including a pilot, a patient, another companion, two EMT personnel, and life support equipment.
The aircraft is to be powered by UA's internal rotor Fancraft technology developed for the company's existing Cormorant unmanned aircraft, which is intended for missions such as cargo transportation. The technology "uses powerful ducted fans combined with advanced aerodynamic technologies that result in superior control, stability, speed, safety, noise reduction, and sustainability."
Nimrod Golan-Yanay, CEO of Urban Aeronautics, commented, "Hatzolah's pre-order of four air ambulance CityHawks is an amazing show of confidence in our program."  Adding, "We look forward to delivering on our promise to revolutionise urban air mobility and the emergency response capabilities of major cities across the world."
Emergency response is just one of the applications that Urban Aeronautics envisions for its CityHawk aircraft. Other variants are planned for use as air taxis as well as corporate and personal transportation.
Visual presentation
https://www.youtube.com/watch?v=Vlk7tSgFiJM
For more information
https://www.facebook.com/hatzolair/
(News Source: https://www.inceptivemind.com)