By Chris Stonor
Hurricanes, floods, fires, earthquakes, volcanoes… our planet faces many natural disasters each year which can quickly become emergencies requiring search and rescue responses. NASA's Advanced Air Mobility (AAM) is researching how this can help when disasters strike, reports a press release.
AAM has the potential to assist in disaster relief, help firefighting missions and provide supplies to hard-to-reach areas during an emergency event. For example, a drone delivering supplies to houses and hospitals when an urban area is flooded.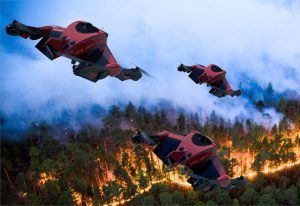 (pic: commercial drone professional)
Other examples include an eVTOL being used to rescue people trapped in a building or residential area after an earthquake has struck; drones assisting firefighters to drop fire retardant and/or spraying water over flames; or managing the movement of people during emergency situations via loudspeakers.
Watch Video:
https://twitter.com/NASAaero/status/1485675902554017794
As part of NASA's AAM Mission's Scalable Traffic Management for Emergency Response Operations, or STEReO, project, the organisation is already looking at how drones can assist in wildfire management. Last year, the project sent drones into several California fires to collect thermal data for the firefighting teams.
Across the state, these teams like the California Air National Guard already use technology like the remotely piloted MQ-9 aircraft with infrared cameras that can fly above a fire and see through smoke and ash. The goal is to add AAM aircraft alongside the presently used helicopters for a number of uses as well as increase safety for firefighters and those communities being affected by the fire.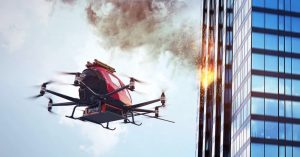 EHang 216 Firefighter
Such projects include work on automation, landing and take-off locations like vertiport and vehicle design, and airspace design to keep everyone safe while flying in the skies together.
Teresa Whiting, from the NASA Armstrong Flight Research Center, explained, "It's going to take an effort between government agencies, industry, and the public to build new highways in the sky.
NASA's vision is to map out a safe, accessible, and affordable new air transportation system alongside industry partners and the Federal Aviation Administration."
For more information