By Chris Stonor
Police forces worldwide are increasingly deploying drones to assist with their crime-fighting and the UK Nottinghamshire Force, this week, decided to "show off" its new state-of-the-art "eye in the sky" by releasing a video, reports westbridgfordwire.com.
Its specialist "drone team", shared with the Nottinghamshire Fire and Rescue Service, was launched in January 2020 and has quickly established itself as one of the most effective in the UK. More recently, the drones have located 13 high-risk missing people, secured dozens of arrests and gathered high-quality video evidence for court cases.
After operating with one primary drone during the team's first 18 months of operations, it has recently taken delivery of a new improved DJI craft, doubling its capacity to carry out "reactive and pre-planned deployments."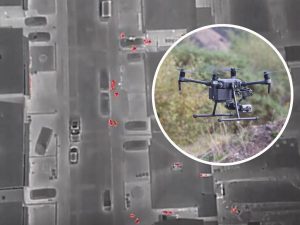 This drone includes a powerful spotlight, the ability to pinpoint and follow targets on a map, and a laser range finder that offers accurate geo-locational data from a distance of up to 1,200 metres away (watch video). The team's 17 trained operators are currently undertaking "familiarisation flights with the drone."
Nottinghamshire Police's Chief Constable, Craig Guildford, said, " This new kit will vastly boost the force's capability to track down suspects and support officers on the ground. It really is a state-of-the-art piece of equipment that is set to make life even harder for criminals."
He continued, "Our drone capability has proved invaluable in a large number of investigations and we are seeing more and more that officers are recognising their value when they call on them for support in tracking down criminals, keeping people safe during large scale events, and finding vulnerable people who are missing from home." Adding, "I am confident this increased investment in drones will prove to be an incredibly useful tool in the fight against crime."
PC Vince Saunders
Chief Drone Operator, PC Vince Saunders, commented, "I am particularly excited by several new features on this new drone, including its hot-swapping battery technology that reduces to a matter of seconds the time it takes to swap out batteries and get airborne again."
He continued, "All in all we'll be able to fly for longer, see further and follow suspects and vehicles with a greater degree of accuracy."
The drone team, based at Sherwood Lodge Police HQ in the market town of Arnoldin the East Midland Borough of Gedling, now has four drones. The team are always on alert to deploy anywhere in the county at a moment's notice, as well as being on hand to assist colleagues from the Nottinghamshire Fire and Rescue Service.
Other drone use includes crowd control, monitoring the illegal use of off road vehicles and providing 2D and 3D mapping of crime and accident scenes.
Recent successes for the Nottinghamshire team include the arrest of a suspect wanted on suspicion of shooting sheep with a crossbow and the seizure of several illegal off-road bikes as part of a wider police operation.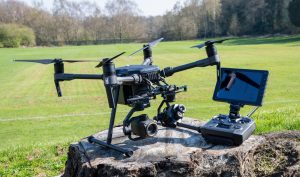 PC Saunders says of the team's future, "In my view, we are in the very early days of a really exciting journey with the use of drones in police work. This may include fixed wing craft that allows police forces to benefit from operations beyond the line of sight (BVLOS), offering a much cheaper-cost operation compared to the traditional helicopter."
Watch Video
https://www.youtube.com/watch?v=B7sjvtNFCHY&t=22s
For more information