By Chris Stonor
Latvia has shown initiative and cunning this winter when it comes to the deployment of drones, reports eng.lsm.lv. Unfortunately, the country has a reputation of holding one of Europe's records for annual inland drowning incidents, many caused by people falling through thin ice on lakes and ponds. Last year alone, the VUGD pulled 122 people dead from the water and so far this year 4 bodies have been recovered.
This winter, the Latvian State Fire and Rescue Service (VUGD) has a new assistant to help keep reckless people off the ice… the drone.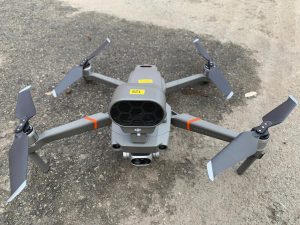 DJI Drone
Latvian Television reported at the weekend that VUGD have attached loudspeakers to DJI drones to warn people to keep away from the inland waters, especially those who enjoy ice-fishing. The drone plays a standard recording or a personalised message that is recorded a few seconds prior to take-off.
Agnis Pūpols, Deputy COO of the VUGD Riga Regional Administration Service, explained, "People are paying attention to the drone message. The problem is, people know that being on the ice is unsafe, but the lure is great. When we remind them it is unsafe, they leave these dangerous places."
This weekend drones were deployed near rivers and lakes. On Saturday alone, the VUGD had to save five people who had fallen through the ice.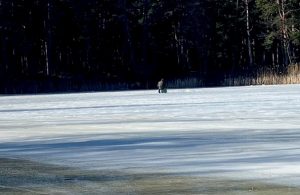 Ice-Fishing
A drone with similar equipment is also indispensable in putting out large fires, when the thermal camera allows rescuers to predict from above where the flames will move next. Drones can also offer extra light during emergencies like car accidents.
Visual presentation
https://www.youtube.com/watch?v=V9TUIWnMrBA
For more information