By Chris Stonor
The Port of Antwerp has announced this week the deployment of autonomous drones to trial various use cases within the field of inspection and management control, reports a press release.
These initial tests are the result of the Port of the Future platform, made available by Port of Antwerp, to roll out new innovations around its environment. These include infrastructure inspection, surveillance and monitoring, incident management, berth management and oil spill or drift waste detection.
The aim is to trial such applications in a realistic and complex environment (Seveso companies, wind turbines, high voltage, etc.) so that they can support the Harbour Safety & Security (HSS) department in the future. Several tests with other autonomous systems will follow during 2021, in preparation for an operational network of autonomous drones to be deployed in 2022.
Erwin Verstraelen, Chief Digital & Innovation Officer Port of Antwerp, said, "Thanks to a network of drones, we can keep a closer eye on what's happening in the port. Through our 'Port of the Future' innovation platform and cooperation with partners, such as DroneMatrix, we can accelerate technological innovation."
He continued, "Not just for drones, but also for promising evolutions in autonomous shipping, smart cameras and sensors. As such, we are working towards a safe, efficient and smart port: the port of the future."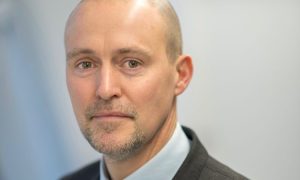 UAMN Interview with Erwin Verstraelen, Chief Digital and Innovation Officer of Antwerp Port:
https://www.urbanairmobilitynews.com/uam-infrastructure/co-ordination-and-risk-management-is-the-challenge-not-technology-erwin-verstraelen-antwerp-port/
The port of Antwerp covers more than 120 km and is part of Belgium's 'critical' infrastructure. The press release states, "The use of drones can make a significant contribution to overall safety in this complex environment. After all, drones afford a unique bird's eye view, enabling port authorities to manage, inspect and supervise a large area quickly and safely."
This week, an autonomous drone developed in collaboration with the company, DroneMatrix, was deployed. It departed from a fixed operating base near Kieldrecht Lock and followed a fixed route around the port. The drone operated completely independently and charged itself through an intelligent docking station that is centrally managed from a web platform.
Lander Vanwelkenhuyzen, General Manager of DroneMatrix, commented, "The ports are important areas as the scope for deploying an automated drone is endless. Increased safety, extended inspection possibilities and a strongly improved 'situational awareness' that can increase the effectiveness of human interventions… these are just a few of the advantages of our YACOB technology."
He continued, "In the coming months, DroneMatrix will launch several early adopter programs where this technology will be deployed for the first time in an industrially-scalable manner."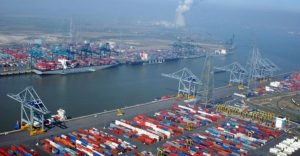 Port of Antwerp
Port of Antwerp's participation in the SAFIR project, has already allowed extensive tests to be carried out previously to investigate the feasibility of manned and unmanned drones at the port. At the end of last year, Port of Antwerp and the European Maritime Safety Agency (EMSA) joined forces for a project involving a pilot-controlled drone.
Annick De Ridder, Port Alderman, explained, "We are doing everything we can to ensure a safe port and drones will become indispensable for this, where innovation and digitalisation are crucial to guarantee our sustainable growth." Adding, "The port is an ideal environment to test and further develop innovative technology."
Visual presentation
 https://www.youtube.com/watch?v=FYwJdDZx_Eo&feature=emb_logo
 For more information