By Chris Stonor
New regulations surrounding drone use may enable "smaller" firms to offer commercial drone services "at bargain-basement rates" but "without the training or experience required", according to UK technology firm, Sensat, and its Chief Data Officer, Harry Atkinson, reports newcivilengineer.com.
Introduced in December, the updated regulations require more people to register drones with the Civil Aviation Authority (CAA), but remove the distinction between commercial and non-commercial drone operations.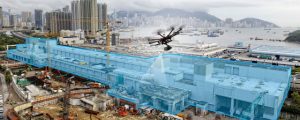 The media website writes, "A new law says that pilots flying a drone weighing over 250g needs to complete the CAA's official drone theory test in order to receive a digital flyer ID." It goes on, "While this streamlines legislation, it means drones are now restricted to a set of categories, and classed as either low risk, medium risk or high risk depending on their size and capabilities."
Industries like civil infrastructure increasingly rely on drones to capture data such as topographical surveys, to support the design, build and operation of projects. With many craft falling into the low risk category, there is a potential for smaller companies to take up drone operation for commercial purposes.
Atkinson said, "This may all seem like a positive step forward in terms of drone usage, particularly for amateur drone pilots, who can now fly commercially with fewer restrictions as long as they are registered or have the right certification in place (if needed)."
He continued, "However, it also raises concerns in terms of how this may impact industries like civil infrastructure. For example, as there is no longer a need for a PfCO [Permission for Commercial Operation – CAA training]  for lighter/cheaper drones, there is a higher likelihood that smaller outfits will appear offering drone commercial services to a certain level at bargain-basement rates, without the training or experience required to deliver quality data safely to the required standard, which could be potentially damaging to civil infrastructure."
According to Atkinson, these pilots will "more likely be using consumer-grade equipment and smaller drones meant for hobbies, domestic or personal purposes" which are not suitable for civils or construction.
He added, "The pilots themselves may also not have the standard of non-standard permissions and exemptions required to fly close to an infrastructure site – so within 150m or less of a congested area or open crowd, or 50m of people properties and objects."
As such, when selecting a drone survey provider, Atkinson said firms should consider the experience of the drone operators, along with the service the company can provide. For example, the quality of data and how accessible it is to a whole team.
He concluded, "The age old saying is true, you pay for what you get. The market is open for cowboys.  If you are unsure about the provider's experience, capabilities, equipment or the quality of data they provide, look elsewhere."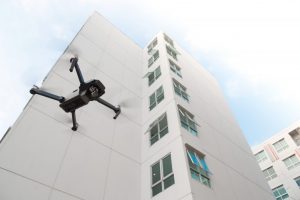 Atkinson then offers guidance on how to select the best and most suitable "non-cowboy drone operators."
______________________________________________________
: What experience do the operators have? What are their certification levels, and flying hours? Have they been on similar sites or have expertise in the construction world?
: What drones are they using? Multirotor (e.g. quadhopper or hexacopter) drones of fixed wings?
: Can your drone survey supplier provide survey grade data? Has it been quality assured? What are the levels of accuracy? How are they verifying the survey?
: Why are you procuring data for your project or asset? What information do you need and how will it be used? At what stage of the project will you want to use this data?
: Define cost and performance benchmarks for your project and understand what data sources are important to you. Get to grips with what you need and the output you require before making a commitment, and do you need to capture data at every stage of the asset lifecycle or can existing data be utilised?
: Can your provider make your data accessible to the entire team?
: Finally, ask for references.
Visual presentation
https://www.youtube.com/watch?v=rPLolJgdL3Y
For more information
(News Source: https://www.newcivilengineer.com
(Top photo: Harry Atkinson)