By Chris Stonor
An interesting story from the CCP's English-written media outlet, globaltimes.cn, that eulogises about the country's latest use of drones to combat the present delta-variant outbreak of Covid-19 in parts of China.
The outlet describes the craft as "cyberpunk tech" and explains, "Over an exit of an expressway in Yancheng, Northern Jiangsu Province, a drone hovers slowly with a QR code hanging below, while broadcasting to drivers entering the city to scan the code that will show their travel itineraries, so that they can quickly pass quarantine inspection."
While some might suggest this is more "Bladerunner than Cyberpunk", the CCP's mouthpiece eulogises, "Netizens commented that it is efficient and helps reduce the workload of grassroots workers in combating the pandemic." Adding, "Many have said that this is the best advertisement for drones."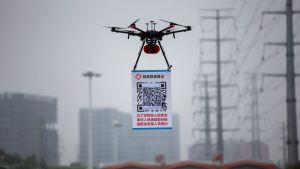 The latest flare-up of the much transmissible Delta variant outbreak "was caused by imported cases which sprung up in Nanjing, capital city of Jiangsu," and has since spread to other Chinese provinces, where cities in Jiangsu have implemented strict measures to control its spread. In total, 31 provincial-level regions across China warned residents on Monday against unnecessary travel.
From July 27th, all personnel and cars entering Yancheng, for example, are required to present a "green health code" or a green telecommunication data-based travel itinerary card. Yancheng police set up inspection points at each of the city's 28 highway exits and junctions of 18 national and provincial expressways.
Globaltimes continues, "The drone will sound an alarm when the battery is at a low level and will automatically return to its dock. It can automatically avoid obstacles while flying, which is a huge upgrade from previous generations, a Weibo user wrote."
It is difficult to imagine that "cyberpunk drones" will "take off" in the West, although countries like Australia has surprised the world by its extreme draconian measures towards the pandemic.
(News Source: https://www.globaltimes.cn)