By Chris Stonor
Canadian robotics start-up, Skygauge, has attracted CAD3.3 million seed investment as demand for drones increase during the Covid-19 pandemic, reports betakit.com.
This particular seed round closed in October and was led by BDC Capital's Industrial Innovation Venture Fund, with participation from RiSC Capital and follow-on from existing investors SOSV (through the HAX accelerator) and Hello Ventures.
This second and by far largest investment round brings Skygauge's total funding to CAD3.8 million. The startup raised CAD500,000 initially with finances coming from HAX's Seed Program, alongside family and friends money.
Skygauge is developing drones specifically for industrial applications, designed to reduce the time involved during inspections while making it safer for workers, in particular, at excessive heights. The design enables the drone to make direct contact with pipes, pressure vessels, and storage containers at varying angles to detect cracks beneath the surface with sensors during inspections that are typically performed by workers on ropes and scaffolding. The company claims its drones can reduce time on site by 80 percent.
The start-up was formed by Nikita Iliushkin in 2016 when he noticed a lack of design innovation in the drone industry. He explains,"Our vision is to really use this as a platform to create a workforce in the sky. The industry is composed mostly of drones taking pictures and videos for data collection."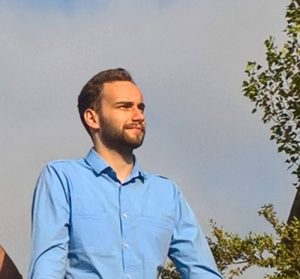 He continues, "We realised this stemmed from limitations with current designs. They were not stable enough to do more physical work." Adding, "We had to invent a new way for drones to fly."
According to Iliushkin, the COVID-19 pandemic and an increase in demand for remote work opportunities has led to a rise in interest in the start-up's product internationally.  "We've had requests from several countries in Europe, Asia, Japan, Africa, and South America, and a lot of clients in the Houston area as well. As you can imagine large industrial sites that produce oil and gas and petrochemicals are now trying to minimise worker time on site, as well as reducing costs." He concludes, "Everything has kind of accelerated because of this pandemic and a lot of companies are on-boarding a lot more technology."
The drone designed by Skygauge features a patented thrust-vectoring design, which allows the drone to manoeuver with "six degrees of freedom." Once the company solidifies its position in the inspection market, it plans on expanding the drone technology into physical jobs like painting, spraying, pressure washing, drilling, paint removal, high-rise window washing, welding, and general construction.
The fast expanding Skygauge is currently adding eight new members to its current team. The start-up is looking to hire six engineers, a business developer, and an office manager. The company is also in the final stages of securing a new facility with a full lab and office.
Visual presentation
https://www.youtube.com/watch?v=PKvw0ZMMpM4
For more information
(News Source: https://betakit.com)