By Chris Stonor
The Netherlands border patrol aims to deploy drones to support its border security, reports drones.nl. The purpose is to track down people hiding in trucks and containers who may be part of a human trafficking operation including the rapidly growing and appalling sex child trade. The drone's thermal infrared imaging camera is ideal for such a purpose where both victims and stowaways can be observed from the air at night by the heat generated from their bodies.
Major Robert van Kapel, Holland's Gendarmaries spokesman, said, "The use of thermal drones to combat human smuggling will assist the regular deployment of investigators and detection dogs." According to Van Kapel, the Dutch police arrested more than four hundred illegal aliens in 2020 that wanted to reach England by truck, ferry or plane.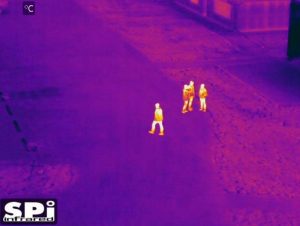 Van Kapel continued, "This is one of the innovative ways to make controls even more effective in our fight against human trafficking." Adding, "Good information is essential in the game of cat and mouse with the people smugglers, who literally and figuratively cross all borders."
The use of drone tricopters from Atlas Dynamics, recently purchased by the Dutch Ministry of Defence, are being considered.
If successfully used, more border patrols from other countries may consider employing drones with similar thermal imagery capabilities. For example, the UK last year saw 10,627 potential victims come through the National Referral Mechanism (NRM) with the latest government estimates of up to 13,000 present in the country including close to 1,200 children trafficked by England's drug trade. Potential victims comprised 123 nationalities from both Europe and as far away as Vietnam.
(News Source: https://www.drones.nl)