By Chris Stonor
Nordic Unmanned (NU), a "leading European provider of drone systems and services", intends becoming a public listing on Euronext Growth Oslo (currently Merkur Market) to help finance "expected strong growth and international expansion," reports a company press release.
NU has engaged SpareBank 1 Markets and SpareBank 1 SR-Bank Markets to advise on this private placement. The company hopes to raise between NOK50 and 100 million. The aim is to purchase more high-end drone systems, as well as developing a proprietary product portfolio. The potential first day of trading is expected to be around December 15th.
Knut Roar Wiig, CEO of Nordic Unmanned, said, "While the largest market for high-end drones is for defence purposes, other private and public sector customers are now seeing the substantial advantages of unmanned technology for increased safety and data value combined with both reduced costs and carbon footprint." He continued, "We are perfectly positioned to capitalise on this growing market, and the planned placement and listing will enable us to fully realise the potential."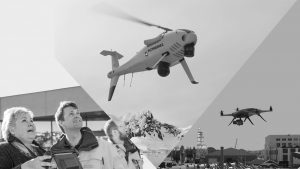 Founded in 2014, Nordic Unmanned serves a number of large customers in Europe within areas such as environmental monitoring, fishery control, security, logistics and surveying and mapping. The total drone market in Europe is expected to grow by up to 14 percent annually to around USD10 billion in the next five years.
The company had revenues of NOK32 million in 2019. During the first three quarters of 2020, revenues increased to NOK 41 million. Based on a current strong order backlog and strong identifiable market prospects, the company expects substantial growth in the coming years.
The company supplies and operates its own Staaker drones, as well as high-end drones from Lockheed Martin and Schiebel.
 Visual presentation
https://www.youtube.com/watch?v=l69KX2-gPiQ
https://www.youtube.com/watch?v=9A_mPId1k3I
For more information