By Chris Stonor
The Japanese company, Osaka Metro Co, have started deploying drones within their subway stations to inspect the difficult to get to "nooks and crannies" infrastructure. This has speeded up and made the process a lot faster, reports mainichi.jp.
Osaka Metro began its deployment of drones for infrastructure inspections around their subway platforms back in February 2020. The work has been contracted out to a specialised Tokyo-based business.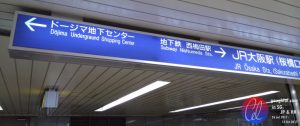 Equipped with a 360-degree omnidirectional camera, the micro-drone weaves its way through pipes and captures film footage. Then, technicians at Osaka Metro analyse the footage and check if there are any abnormalities such as water leaks.
In the past, inspecting the inside of the platform ceiling, for example, entailed setting up scaffolding and required workers to craw the small spaces. Now with the drone, The whole process only takes around 2 hours per station.
An Osaka Metro public relations official said, "We now know that we can use the drone to save labour and conduct safe inspections. We are considering deployng the drones for manholes and tunnels, too."
Visual presentation
https://www.youtube.com/watch?v=c3fGT6nbnZM
For more information
https://en.wikipedia.org/wiki/Osaka_Metro
(News Source: https://mainichi.jp)
 (Main Photo: A drone inspects Awaza Station on the Sennichimae Line of the Osaka Metro in Osaka's Nishi Ward on Oct. 29, 2020)