By Chris Stonor
Autonomous Drone Maker, Skydio, announced this week it had raised USD170 million in a series D funding round led by Andreessen Horowitz's Growth Fund, reports a press release.
This brings total funding procured to over USD340 million with a present company valuation of over USD1 billion. Andreessen Horowitz, who also led the series A round, is joined by existing investors Linse Capital, Next47 and IVP, along with new investor UP.Partners.
Skydio's drones are best known for their self-flying technology that allows the craft to autonomously navigate obstacles and track users on the ground. The company released its first drone in 2018, the USD2500 R1, aiming the product at consumers. It followed this up with the smarter and cheaper USD999 Skydio the following year and last year announced its first drone aimed specifically at enterprise and military customers: the X2.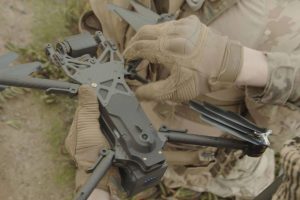 Skydio's X2 Drone Aimed at Enterprise and Military Customers
David Ulevitch, General Partner at Andreessen Horowitz, commented, "We are now seeing the drone market maturing. Autonomy is the key for drones to reach scale, and Skydio has established itself as the defining company in this category."
Bastiaan Janmaat, Partner at Linse Capital, added, "Think of all the dangerous jobs requiring ladders, harnesses, or helicopters to do work that can now, with Skydio, be done much more safely and efficiently. Autonomous drones will enable our ageing infrastructure to be monitored much more effectively and our first responders will have greater situational awareness than ever before."
Previous UAMN Articles About Skydio:
https://www.urbanairmobilitynews.com/defence/action-stations-skydio-poised-to-supply-first-tranche-of-short-range-recon-drones-to-us-army/
https://www.urbanairmobilitynews.com/business-partnerships/eagleview-skydio-co-operate-on-autonomous-drone-technology-for-improved-property-inspections/
During the last year Skydio has made important progress in each market category. From the continued consumer popularity of Skydio 2, the recent drone deal with EagleView for residential roof inspection, to interest from the U.S military and its army short range reconnaissance program.
Skydio drones have worked alongside esteemed companies involved in construction, transportation, energy utilities and police departments. These include Jacobs Engineering, Sundt Construction, the US Civil Air Patrol, Ohio Department of Transportation, North Carolina Department of Transportation, Boston PD, and Sacramento Metro Fire Department.
 Adam Bry, CEO and Co-founder of Skydio, said, "Things are already pretty exciting, but we are just scratching the surface of what autonomous drones can do."
Drone AI-based autonomy will further accelerate in 2021 with the company's release of its new Skydio X2, recipient of CES's 2021 Best of Innovation Award and Skydio 3D Scan, the first-of-its-kind adaptive scanning software.
 Recent data gathered by Valuates Reports, says the global market for commercial drones will grow from USD6.5 billion in 2020 to USD35 billion by 2026.
Visual presentation
https://www.youtube.com/watch?v=9hqmw8ko9o8
For more information
(News Source: https://www.theverge.com)