By Chris Stonor
As the pandemic worsens in the UK with deaths from Covid-19 now at an average of 1,000 per day, councils around the UK are turning more and more to drones to monitor social distancing, reports portsmouth.co.uk.
Dr Yvonne Doyle, medical director of Public Health England said this week, there have been more deaths in the second wave than the first. On Wednesday, the UK recorded 1,564 deaths in just one day, the largest to date, bringing the overall total to 84,767.
And speaking to the Commons Liaison Committee, PM Boris Johnson said the situation was "very, very tough" in the NHS and the strain on staff was "colossal". He appealed to the public to follow lockdown rules, which require people in England to stay at home and only go out for limited reasons, such as for food shopping, exercise or work if they cannot do so from home. Yet, this time around the public are showing less respect for the regulations and why some UK councils are turning to drones for assistance.
For example, in Portsmouth, the public are "flocking to the seafront" for exercise and takeaway foods leading to the flouting of social distancing rules due to the sheer number of people involved.
Last weekend, Portsmouth City Council, deployed a drone to monitor the footfall, and is looking at what action needs to be taken to keep people safe. Footage obtained show thousands of people between South Parade Pier and Eastney, and while many are sticking to household bubbles, the concentration around coffee shops has been a cause for concern.
Council leader, Cllr Gerald Vernon-Jackson, says it's a catch-22 of obeying lockdown rules without damaging local businesses. "There is a growing concern about how things are operating on the seafront," he said.  "We hired a drone to get some footage at the weekend, so we can see what the numbers are actually like."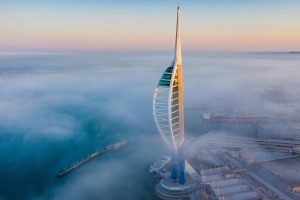 The film shows a high number of people congregating outside South Parade Pier, Southsea Beach Cafe and the Coffee Cup in Eastney. Three major seafront food outlets closed over the weekend due to concerns about excessive gatherings. Government statistics show 1,292 new coronavirus cases were reported in Portsmouth alone over the past week.
Andrew Harvey, landlord of The Duke of Buckingham pub in Old Portsmouth, believes the council should go much further with its enforcement. He said, "I was on my way home on Saturday and all the car parks were full. Then, when I passed the takeaway places there was at least 20 people queuing at each one, and more just sat or stood around in a Covid-19 melting pot."
Cllr Vernon-Jackson added, "Exercise and takeaways are allowed, but please don't travel for them. Use your local area instead, we all have a part to play and it's crucial that we adhere to the rules."
(News Source: https://www.portsmouth.co.uk)