By Chris Stonor
This story was first covered by UAMN back in March when it was divulged that "a new and ground-breaking anti-littering campaign, supported by McDonald's and the company's key suppliers, employing drone technology and AI," was to be used this summer to assist the South Coast Councils of Bournemouth, Christchurch and Poole to tackle litter during "what was expected to be a very busy summer period as lockdown restrictions ease." Now summer has arrived, the success or failure of this drone technology can be revealed, reports telegraph.co.uk.
Previous UAMN Article:
https://www.urbanairmobilitynews.com/new-city-projects/uk-litterbugs-to-be-trashed-by-drone-technology-and-ai/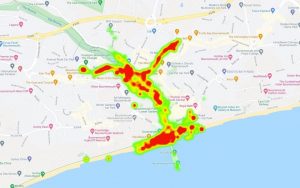 The nature of humanity and its scant disregard for creating rubbish and litter is shown by the work of these drones that can detect a single cigarette butt from high above with the alarming discovery that 1.5 tonnes of rubbish was dropped by UK beachgoers in "just one week", a third of which were glass bottles, that comprised of 123,000 items in Bournemouth alone.
The litter included some 47,467 cigarette butts, 32,678 pieces of paper such as receipts or napkins and 6,578 plastic fragments. The study also recorded 1,677 food sachets, 1,530 plastic bottles, 370 toys, 342 wet wipes and 147 juice cartons. This volume of litter was said to have been caused by just 20 percent of the visitors on the beach during that drone patrolled week, with the majority taking their rubbish home with them.
The 'heat map' at the top of the page shows the areas worst affected by litter. A total of 18 sites along the seafront were monitored between May 27th and June 2, covering an overall area of 475,000 square metres.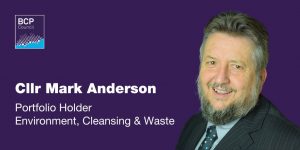 Mark Anderson
Mark Anderson, the Portfolio Holder for environment, cleansing and waste at BCP council, said, "Even though we have miles of award-winning beaches, the ongoing stats and subsequent results will certainly help us to look at our bin locations and refuse logistics on the seafront, in our open spaces and town centre locations."
He continued, "The problem is not the 80 percent of the population who come to our beaches and take the litter home or put them in the appropriate bin, it's the 20 percent who ignore this, leading to these results."
The drones were operated by the waste-tracking sustainable technology company Ellipsis Earth and carried out in partnership with BCP Council, the environmental charity Hubbub and McDonald's.
The data collected will be used by the council to produce a map of "litter hotspots" so the council knows where to locate bins on the seafront for "maximum effect" in the future. This drone technology is able to identify 47 different types of litter and the high-resolution cameras can even pick out the brand name on a cigarette butt.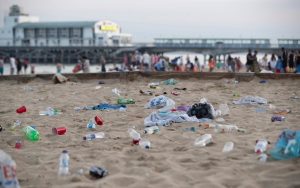 The survey was the first of its kind to be carried out in Britain following on from a trial in the Italian town of Sorrento last year.
(News Source: https://www.telegraph.co.uk)