By Chris Stonor
DRONAMICS, "a leading middle-mile cargo drone developer and operator", unveiled last week, that Malta is to be its first base of operations in Europe for its unmanned drone logistics service, reports a press release. The company will deploy its Black Swan drone next year to provide a same-day delivery service. This first commercial route will connect Malta to mainland Italy followed by other destinations in the Mediterranean and Europe.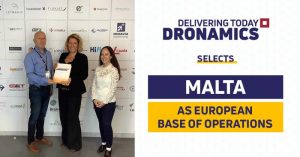 Sergio Oliveira e Silva, CEO of DRONAMICS, commented, "Malta is the perfect operational and strategic location for our first flights of the Black Swan. We aim to connect the country first with Italy where the Italian Civil Aviation Authority (ENAC) has established test-bed airports for remotely pilot aircraft system trials."
He continued, "Transport Malta and the Civil Aviation Directorate have given us a clear path to establishing our first commercial routes and we aim to do the first trial flights in 2022."
Capt. Charles Pace, Director General of Civil Aviation Directorate Transport Malta (TM-CAD), added, "Malta has developed into a thriving hub with a strong aviation cluster that can support our expansion as the world's cargo drone airline. We are very excited that Malta is going to be the first country in Europe that we will service and its strategic position and great trade heritage make it the perfect location for our European base."
Footnote
The Civil Aviation Directorate within Transport Malta regulates all aviation activities in Malta and is a member of ICAO, EASA, EUROCONTROL and ECAC.
For more information