By Chris Stonor
A Sydney-based drone start-up founded by a former Qantas pilot has scored the largest ever pre-seed investment from Lindsay Phillips' Nightingale Partners, reports afr.com.
Aerologix, which was co-founded by Tom Caska and former technology consultant Rakesh Routhu, is creating the "Uber for drones", a platform that connects drone pilots with enterprises or individuals that need drone imaging.
This specialist company is the first to be funded by Nightingale, which has invested USD1.5 million in the business. Aerologix was formed 18 months ago and has already signed up several hundred drone pilots to its platform as well as a deal with a large global 5G infrastructure provider.
Casks says, "We've been approached by Qantas, Jetstar, and even airlines in the Middle East. These pilots have all these skills and all they have to do is complete a half-day course to become a drone pilot. We expect the numbers to grow quickly because of the pandemic-related layoffs in the aviation industry."
The business is a result of the combination of Caska's previous drone photography business Aerolens and Routhu's drone swarm management platform R2 Robotronics. Drone pilots can earn up to USD80 an hour through the platform and Aerologix gains a 20 percent commission from each transaction.
Caska continues, "It's a double-sided marketplace where we're matching supply and demand and that's the biggest challenge. There are so many industries recognising that they need to use drones and that they're not just a nice toy, but something that affects the bottom line." Adding, "We're already looking at enterprise projects that are upwards of 50,000 to 60,000 sites a year."
As well as matching drone pilots with clients, Aerologix tenders for large enterprise deals, in which it ensures pilots working on the project are appropriately skilled and the data being collected is of good quality.
The company is also developing flight navigation systems that will enable it to automate the whole journey of a drone and to do complex flights with less experienced pilots. This system is close to completion and will be able to automate, for example, the flight of any DJI drone.
The ambitious Routhu hopes the business will be seen as one of the world's leading drone tech companies within five years. "Our vision is to get the 16-year-olds who are working in McDonald's and getting paid USD7 an hour to come on to our platform and monetise their free time." He continues, "Every time I take my drones out, my kids who are 10 and seven want to fly them. You can see the enthusiasm in the idea."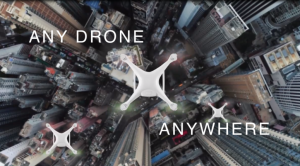 Previously, Caska had consulted with the NSW government and its Surf Life Saving project and set up a shark surveillance network along the State's coast using drones. Via this network of craft, hundreds of bull sharks and great white sharks were spotted and when they came within 15 metres of a swimmer, an alarm system would sound. Caska says that setting up this previous network of drone operators gave him a good starting point to establish Aerologix.
Nightingale Partners MD, Lindsay Phillips, explains he had been looking at the drone industry for four years. "I like the blend of expertise between the two founders and that both already had a go at the drone space and not quite made it, which is the first step on the road to success in my opinion. It shows tenacity and in an early-stage venture, you need that." Adding, "From a business viewpoint, it is also scalable. It's like the Uber of drones."
The fund, which invests capital on behalf of Australian CEOs, has 27 companies in its portfolio, including businesses such as virtual reality company Start Beyond and loyalty software business Loke.
Visual presentation
https://www.facebook.com/watch/?v=671285463537650
https://aerologix.com/matterport
For more information
https://nightingale.com.au/investments/
(News Source: https://www.afr.com)
(Front photo: Aerologix co-founders Rakesh Routhu and Tom Caska)