By Chris Stonor
Canada-based Volatus Aerospace, announced this week that its large cargo drone Natilus N3.8T, has secured its first production delivery slot, reports a press release. The company promises the craft will offer substantial economies and reduction in emissions. The Natilus is under development in San Diego, California.
The N3.8T is the first in a family of next-generation freight aircraft with a twin-engine turboprop, a maximum take-off weight of 19,000 lbs, a maximum range of 1,035 miles and is expected to carry a load of LD3 containers to a maximum weight of 8,500 lbs.

The release explains, "Natilus integrates three specific technologies to create increased efficiencies: Blended Wing Body (BWB) design, remote-pilot operation, and standard container standardization. The N3.8T offers an estimated 60 percent more cargo volume than traditional aircraft of the same weight while reducing costs and carbon dioxide per pound by 50 percent. The aircraft has completed the second wind tunnel test and is expected to begin deliveries in 2025."
Glen Lynch, CEO of Volatus, commented, "The recent amalgamation with Partner Jet Inc., gives us the commercial infrastructure to operate drone cargo services, where the addition of Natilus  establishes the long-term direction for our aviation division."
Luc Masse, Executive VP of Volatus, added, "We are already an experienced commercial air carrier with operating authorities and licenses facilitating cargo delivery using both piloted aircraft and drones. We believe the planned addition of these large autonomous drones will allow us to develop important airline partnerships within the air cargo industry."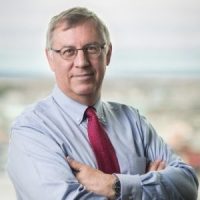 Luc Masse
The company believes that by reducing the cost of airfreight by up to 50 percent will bring fresher produce into stores, enable cross-border e-commerce to flourish, and enable low infrastructure regions to develop. Volatus' aim is to begin with small package delivery and then expand into regional airfreightvia the remotely-controlled Natilus N3.8T.
Meanwhile, Volatus Aerospace Corp floated on the Toronto Stock Exchange last week as a new listing on the TSX Venture Exchange. This news has seemingly gone under the radar.
Footnote
Volatus Aerospace is a leading provider of integrated drone solutions throughout Canada, the United States and Latin America. Operating a large pilot network, Volatus serves commercial and defence markets with imaging and inspection, security and surveillance, equipment sales and support, training, and design, manufacturing, and R&D. Through its subsidiary Volatus Aviation, Volatus carries on the business of aircraft management, charter sales, and cargo services using piloted, remotely piloted, and autonomous aircraft.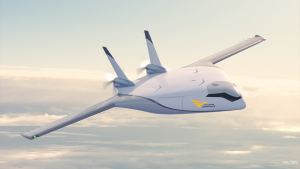 Visual presentation
https://www.youtube.com/watch?v=nDilzRYoocA&t=3s
For more information