By Chris Stonor
Back in February, the global logistics service provider, DB Schenker, invested a large amount of money into Volocopter during a series C funding round, which raised EUR87 million, reports nowthatslogisitics.com.
Besides DB Schenker, Mitsui Sumitomo Insurance Group, MS&AD Ventures, and TransLink Capital (Japan Airlines and Sompo Japan Insurance) joined the round as new investors. The money will go towards the certification of the VoloCity, hiring more industry experts, and a second generation VoloDrone to ensure commercialization of the heavy-lift cargo drone product. To date, Volocopter has raised total funding of EUR122 million.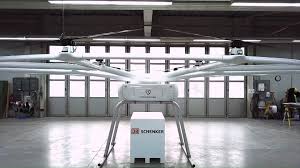 Yet, of all Volocopter's investors, DB Schenker are, perhaps, the most important, given the array of assistance the company can offer.
Jochen Thewes, CEO of DB Schenker, said, "By integrating the VoloDrone into our supply chain of the future we will be able to serve our clients' demand for fast, remote, emission-neutral deliveries. We are thrilled to now be part of this drive for innovation in a fantastic team."
Peter Littau, Volocopter Commercial Lead for VoloDrone, added, "DB Schenker has an incredibly valuable and extensive global network of partners and clients meaning they know where our VoloDrones can best meet international logistical needs."
He continued, "They have been a very collaborative partner for this project, and I am happy to be a part of combining the expertise from both sides to bring this project to life."
DB Schenker and Volocopter have only been collaborating on the VoloDrone project since mid-2019. However, the collaboration has been years in the making. What began as a utility drone project in 2018 has grown to be a fruitful partnership with a leader in supply chain management and logistics solutions. By pairing DB Schenker's logistical expertise with Volocopter's eVTOL know-how, the two companies "are preparing to show the world what the next generation of heavy-lift drones can do."
The VoloDrone has 18 rotors that span a diameter of 9.2 metres  and is capable of carrying a 200 kg load over a range of 40 km using exchangeable lithium-ion batteries. With one battery charge, a VoloDrone can fly 30 minutes and be operated remotely or automatically on a pre-programmed route. This drone is multi-purpose, adaptable for any terrain, ready to carry heavy loads and is cheaper to fly than a helicopter.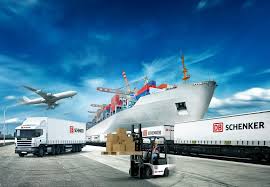 Furthermore, the VoloDrone is very adaptable with its flexible standardised payload attachment system for mounting different devices to its frame. Together with DB Schenker, the company is developing a craft to meet modern logistical needs including investigating where the VoloDrone will be most useful such as in cases where heavy deliveries need to be made over water or up mountains quickly.
Christophe Hommet, Volocopter Chief Engineer of VoloDrone, said, "DB Schenker is a world class partner that knows where this technology can be applied. As such, we are a winning team."
Upon receiving certification, the two will be able to transition to offering VoloDrone delivery services for businesses around the world.
Visual presentation
https://www.youtube.com/watch?v=Alu7SLdhRx4
For more information
https://www.volocopter.com/en/
https://www.dbschenker.com/global
(News Source: https://nowthatslogistics.com)