By Chris Stonor
Drone Delivery Canada (DDC) has provided an update on its proposal to integrate Artificial Intelligence (AI) into its drones, reports a company press release.
DDC aims to integrate various aspects of AI into its craft including the use in operational data collected by the Company's FLYTE software as related to weather, air traffic patterns and package delivery patterns as well as radar data, vehicular & marine traffic data and battery/fuel consumption data.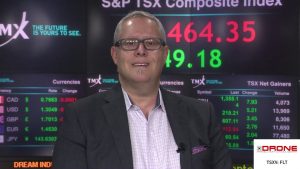 Michael Zahra
The release says, "AI can be applied to the broad range of data collected by the Company in order to optimise predictive real-time route planning, especially in emergency medical scenarios." It goes on, "For electric and gasoline fuel optimisation, long-range and short-range Detect and Avoid (DAA) systems for commercial and residential deliveries and multi-drone logistics traffic optimisation.
Michael Zahra, President and CEO of DDC, said, "There are numerous applications for AI within our system to bring even greater benefits to our customers. Using AI, machine learning and predictive analysis to push performance capabilities to the next level is part of our technology roadmap."
He added, "Considering the volume of data obtained through our operations, this data can be monetised in the future to create new, incremental revenue streams."
For more information