By Chris Stonor
Elroy Air, the aerospace and logistics company developing "the world's first end-to-end automated vertical take-off and landing (VTOL) aerial cargo systems", is collaborating with NASA to improve the safe integration of advanced autonomous cargo aircraft into the United States airspace, reports elroy.medium.com.
This partnership is part of NASA's Advanced Air Mobility (AAM) National Campaign to develop key guidance for UAM (Urban Air Mobility) operations, while focusing on key aspects like certification and standards development, in an effort to accelerate U.S. automated aviation technology.
The collaboration is to initially address safety with the focus on autonomous flight and contingency management including collision avoidance, flight path management and two-way network flight plan communications.
NASA and Elroy Air aim to demonstrate key integrated operational AAM scenarios with flights of Elroy Air's Chaparral aircraft. The partnership intend to collaborate on flight safety reviews and technical validation approaches and to integrate Elroy Air's communications systems into a NASA airspace communications framework for UAM platforms that builds upon lessons learned from the NASA UTM (Unmanned Aircraft System (UAS) Traffic Management) project.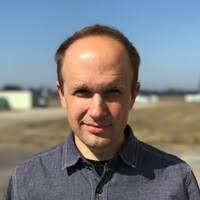 Clint Cope
With support from the FAA, NASA and Elroy Air are to trial and demonstrate AAM scenarios in support of middle-mile aerial logistics. NASA will provide Elroy Air with simulation scenarios and software interface details to validate connection and data formats.
Clint Cope, co-founder of Elroy Air, commented, "This partnership enables Elroy Air to bring its expertise in developing VTOL aerial logistics platforms together with the groups at NASA driving UAM and RAM (Rural Air Mobility) to be realised in the NAS (National Airspace.)"
He continued, "The demonstrations we are planning and the frameworks we'll develop and validate together will showcase that logistics will be a smart and large early use case for this new and exciting chapter in VTOL aerospace."
The Chaparral is the VTOL aerial cargo system in development by Elroy Air at its headquarters in San Francisco, CA. It is a transitioning lift+cruise VTOL aircraft with separate vertical and cruise flight lift systems and hybrid-electric powertrain for long-range flight capabilities. The first production version of the Chaparral will carry 300 lbs of cargo over a 300 mi range.
Starr Ginn, Lead for NASA's Advanced Air Mobility (AAM) National Campaign (NC) series, added, "The work with Elroy Air will help accelerate the realisation of exciting new Advanced Air Mobility logistics missions."
Elroy Air is "a leading company in the race to field an autonomous VTOL platform for aerial logistics, to enable same-day shipping to every person on the planet."
The Elroy Air team has designed the system for high-throughput aerial cargo transport needing minimal pilots and operators. The company has developed lightweight, aerodynamic modular cargo pods that can be pre-loaded by ground staff and picked up by the aircraft before takeoff. At the delivery location, the pod is lowered to the ground and released after the system has landed. Upon depositing a cargo pod, the system can retrieve another pre-packed outbound pod and fly to its next destination, creating a bi-direction conveyor belt through the sky. The system is designed for autonomous flight operations, but can be partially remotely-piloted to comply with civil aviation authorities and airspace integration policy.
Elroy Air was founded in 2016 and is financed by various leading venture firms in the Silicon Valley and Los Angeles including Catapult Ventures, Levitate Capital, Lemnos, Diamondstream Partners and City Light.
The company has attracted a diverse team with industry experience hailing from Uber, Northrop Grumman, Scaled Composites, Skyryse, AeroVironment and Airbus as well as academic backgrounds from Embry-Riddle, Rice, MIT, Georgia Tech and Stanford.
Visual presentation
https://www.youtube.com/watch?v=_V3oD7u5V6w&feature=emb_logo
For more information
https://www.nasa.gov/centers/armstrong/features/cargo-delivery-partner-joins-NASAs-advanced-air-mobility-project.html
(News Source: https://elroyair.medium.com)