By Chris Stonor
Last month, Latvia successfully trialed its first-ever autonomous drone delivery, reports suasnews.com. A package consisting of mobile phones was flown to the elderly residents of several social care centres in Riga.
The people received phones from the Latvian Mobile Telephone company (LMT) with useful apps to allow them to communicate with family, friends and relatives as well as to follow the news and learn new online skills. This was part of a joint project with SPH Engineering and DPD Latvija.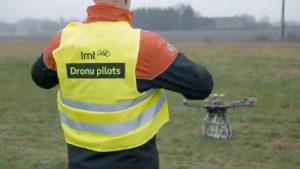 The Beyond the Visual Line of Sight (BVLOS) flight was conducted entirely on the mobile network, where the drone used a remote ID device prototype made by LMT alongside a UgCS drone control software, employing route planning from SPH Engineering.
LMT's device prototype is drone-mounted and enhances the craft with autonomous flight capabilities. The device's SIM card provides two functionalities, remote identification and location tracking of the unmanned craft according to the GPS signal. Combined, they offer additional security and transparency, making BVLOS flights possible.
Ingmārs Pūķis, the Vice President of LMT, said, "Using a UAV to deliver parcels is a great example of how technologies serve people. In co-operation with international partners, LMT is actively working towards promoting safer BVLOS drone flights on mobile networks."
The combination of the LMT remote ID device with the UgCS route planning makes autonomous flight possible. The drone operator along with any observers required, can be in a command centre while having access to the necessary data that is available on computers or smart phones.
A majority of UAV commercial flights in the future could be conducted via BVLOS. For now, they are few and far between due to legal regulations that only allow drone flights within direct visual sight.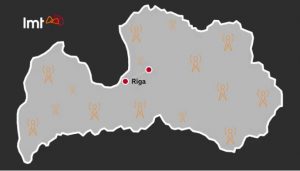 Alexey Dobrovolskiy, CTO of SPH Engineering, commented, "Within the last few months, we have observed how drone delivery and the mobile phone industry, both global and local, are joining forces to introduce delivery solutions with UAVs."
During 94 percent of the conducted Latvia trial, the average network strength was -87.6dBm, which is a very good indicator by the cellular network provider standards.
Jānis Grants, the President of the Executive Board of DPD Latvija, emphasised the importance of technological progress. "DPD has always been eager to follow the latest tech developments. Next to electric vehicles, transporting packages with drones is a further sustainable solution and speeds up delivery time."
Visual presentation
https://www.youtube.com/watch?v=yrgLtb9j3bg&feature=emb_logo
For more information
(News Source: https://www.suasnews.com)