By Chris Stonor
This Friday (July 30th), FlytBase will officially launch its FlytZip, an on-demand, last-mile aerial delivery software solution, reports a press release. "This is an industry first", says the company. This means drone solution providers (DSPs) are able to deploy and manage multiple deliveries, end to end, employing the UAV hardware of their choice.
The last-mile problem in the logistics industry presents many challenges in terms of delivery efficiency and customer experience. But, with the advent of heavy-lift drones, several organisations have started to tap into the immense potential of automated aerial transport systems to address such issues.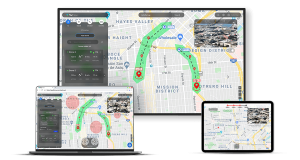 The release says, "Leveraging drones for commercial purposes, such as delivery, involves customising the hardware and software, getting the necessary regulatory approvals, and extensively training users in operating drone equipment."
It goes on, "Various DSPs and system integrators were hence founded to bridge this gap and aid organizations in deploying autonomous aerial delivery systems tailored to their business model and scale of operations."
As ecommerce, medical deliveries and online food services continue to grow at a rapid rate, reducing the time to market of a drone delivery solution becomes critical. The release explains, "However, in the absence of a software solution designed specifically for aerial deliveries, DSPs are forced to either use generic mission-planner applications or build the entire software stack by themselves."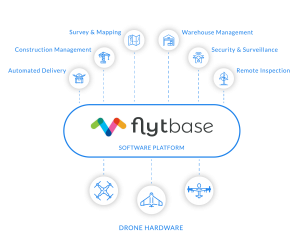 A drone delivery software platform should be able to offer "various features for flight safety and remote fleet management, apart from the necessary delivery-specific features such as admin/dispatcher access levels, shipment status, route optimization, and integrations with package-release mechanisms and dropboxes." Developing all these modules and building compatibility with various drone hardware options in house, from scratch, "can be highly expensive and time-consuming. Furthermore, generic drone software solutions do not offer most of these capabilities."
FlytZip is "an affordable, turnkey, and hardware-agnostic software application that allows users  to add off-the-shelf or custom-built drones to their dashboard and execute multiple deliveries simultaneously." Such operators have complete administrative control of all the shipments from start to finish. They can add and manage a set of dispatchers, approve and modify orders, configure different drop-off points for multi-package deliveries, monitor drone telemetry, and do much more.
Numerous flight-safety actions such as pre-flight checks, failsafes, and geofences can also be set for each delivery mission.
Every dispatcher added by the operator has access to a separate order dashboard,
where order details such as the pickup and drop locations can be set/modified, recipient information can be added, and order history can be viewed.
For each shipment, a delivery route is auto-generated by the system for optimum resource utilization. Further, once a delivery mission starts, the recipient of the package gains access to the live HD video streamed from the drone in transit to their location and can view the status of the shipment.
FlytBase says its FlytZip offers "seamless integrations with third-party software such as ERP, inventory, and air-traffic management systems (UTMs) and landing platforms such as docking stations and smart storage boxes." Adding, "It also supports advanced cargo mechanisms such as winch and grip modules for package release."
Meanwhile, those attendees of the launch event can take-up the early-bird offer on monthly subscriptions and watch a complete demo of FlytZip's features.
Footnote
Founded in 2016, FlytBase is a Silicon Valley company and claims it has built "the world's first Internet of Drones (IoD) platform, providing drone-agnostic software solutions to automate and scale drone operations."  The FlytBase solutions are compatible with major drone hardware platforms (e.g DJI, Ardupilot, PX4) and come with SDKs, simulators, and APIs for "reliable testing and smooth integration."
For more information