By Chris Stonor
Flytrex, a Tel Aviv, Israel-based drone delivery start-up, announced this week it is to expand its service in Fayetteville, North Carolina, after receiving initial approval from the U.S Federal Aviation Administration (FAA) back in August 2019, reports thespoon.tech.
This week the FAA granted a waiver to Flytrex which now allows the company to operate its drones above people, opening the door for delivery of food, drinks and other goods directly to consumers' backyards. These expanded deliveries are to remain being conducted in co-operation with Causey Aviation Unmanned.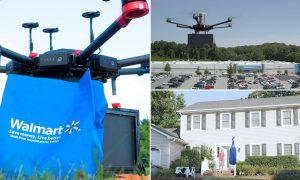 Those interested need to download the Flytrex app to place their purchase with participating local restaurants and stores. Once fulfilled, the order is flown to the customer's backyard where the drone hovers in the air and lowers the payload down to the ground by wire. Flytrex drones can carry a 6.5 lb payload up to 40 mph with a range of six miles.
Meanwhile, Walmart has been part of Flytrex's Fayetteville program since September, offering drone delivery service of select groceries and household goods. With today's announcement, the number of homes in Fayetteville eligible for on-demand drone delivery from Walmart is to expand. The supermarket chain is presently constructing a drone launch-pad in Pea Ridge, Arkansas, just 11 miles from the company's HQ in Bentonville.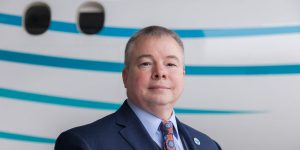 Jeff Causey
One of the major advantages is speed. Now by flying above people, roads and traffic, drones can deliver hot coffee and restaurant meals in a manner of minutes. This means that drone companies can operate more deliveries per hour than a traditional third-party delivery driver, therefore making the whole exercise a lot cheaper and more profitable. Manna Aero, for example, the Irish drone delivery company presently trialling a service in Oranmore, County Galway, says that a single drone operator can achieve 20 deliveries per hour.
Footnote
Causey Aviation Unmanned was founded by Jeff Causey several years ago. He is also the company's CEO.Causey previously served as Part 135 Director of Operations for Causey Aviation as well as a Safety Officer. He is an airline transport pilot and today combines his two loves of aviation and engineering.
Visual presentation
https://www.youtube.com/watch?v=mCR354HRijE&feature=emb_imp_woyt
For more information
https://causeyaviationunmanned.com
(News Source: https://thespoon.tech)